Welcome to the first blog post from Logged Into Terrorism. This week's focus is on Online Propaganda, specifically looking at Twitter and the way ISIS have capitalised it.
Vital Information
Terrorist propaganda is now mainly spread online.
Terrorists are hijacking trends on Twitter to promote their message.
Over 360,000 terrorist-related accounts suspended on Twitter.
You need to use the report feature to save lives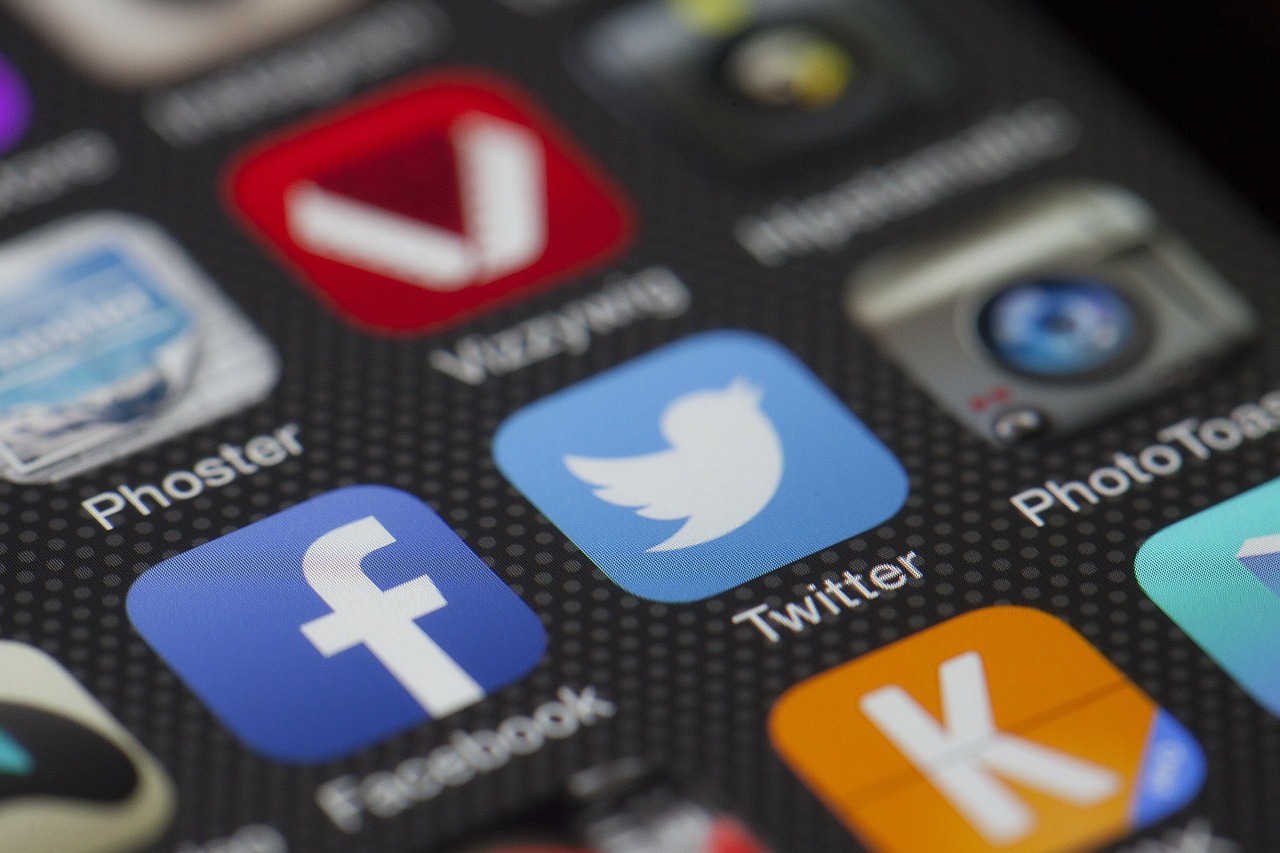 What is Propaganda?
To get you up to speed the Oxford English Dictionary  defines Propaganda as:
"Information, especially of a biased or misleading nature, used to promote a political cause or point of view"
Terrorists can use this to spread their biased messages in the forms of Video, Images and text. The rise of the internet has created a new platform for Terrorist propaganda which allows them to reach a global audience.
Propaganda has Changed
Before the internet existed, propaganda was spread by public speeches, monuments and the use of printed words or images. Through time the likes of radio and TV have also given an output.
However, for content promoting terrorism to be shown on TV it would have to go through strict regulations. This leads to the content being manipulated and losing its key message or not being shown at all. This is due to company's such as the BBC not wanting to be associated with such terrorist organisations as it could damage their reputation and credibility.
Dr Peter Johnston believes the growth of the internet has transformed propaganda beyond anything from earlier generations. This online world brings a new form of communication in which anyone can say anything to anyone in the world with very little repercussions. In the hands of Terrorists, this is dangerous.
Many have linked the use of online terrorist propaganda to the increase of recruitment, especially in ISIS' ranks. Recruitment will be investigated further in the next post but for now, check out Business Insiders report on ISIS' crucial recruiting tactic.
Through the use of websites and social media accounts, terrorists now have direct control over their content and who they target online. They can even manipulate their own image and the image of their enemies. This allows groups such as ISIS to spread their views rapidly across the world which could have a negative impact on audiences. Research by J.M. Berger showed ISIS having over 45,000 twitter accounts in 2014 but with the internet thriving this number may be increasing as we speak.
Over at @LogIntoTerror on Twitter, a Poll showed that 67% agreed with the internet being the global hub for Terrorism.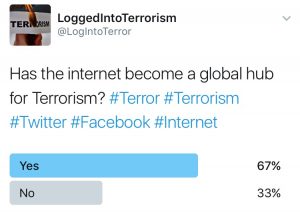 Propaganda on Twitter
Twitter is an online news and social networking service where users post short 140-character messages called "tweets". Using retweets and hashtags, content can be shared and found.
One of the biggest terrorist groups ISIS used twitter to spread their messages during the 2014 FIFA World Cup in Brazil. Now they didn't cause any physical harm but instead hijacked trends on Twitter. Using the hashtags #Brazil2014, #ENF and #WorldCup2014 allowed ISIS to implement their tweets into the trend. The tweets linked audiences to propaganda of British jihadists trying to persuade other western Muslims to join their ranks. The aim was to mislead football fans across the world and take them down an ISIS propaganda filled road.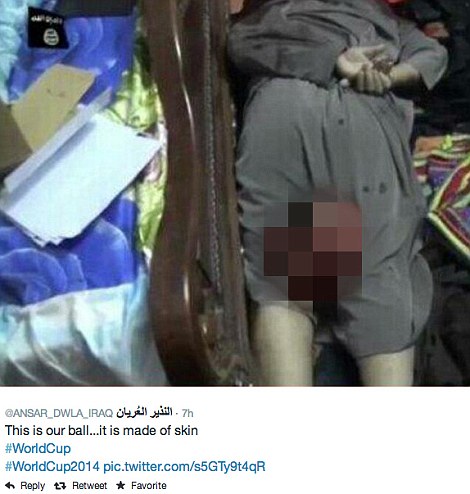 The image above was tweeted by a member of ISIS which shows a decapitated police officer. As you can see hashtags are used to hijack the World Cup Trend.  This sickening image is then seen by audiences of all ages. However, they are exposed to the uncensored version.
The fact ISIS or any terrorist organisation has the potential to spread propaganda in one click to millions of people is a very concerning issue. This is something that is very hard to prevent.
Another example of Terrorist power on Twitter is through videos. On the 20th August 2014, ISIS published a video on Twitter which involved the beheading of American journalist James Foley. Read more here (WARNING Graphic Content). Through retweets, this video went viral immediately creating a moral panic. It spread on a global scale being posted on sites such as Facebook and YouTube. It even dictated offline media outlets like TV and print to display the events.
This demonstrates how the social media has given terrorist propaganda insane power. It can now influence not only you but nearly any media company.
It's Not all Doom and Gloom
Even though it may look like terrorists are running part of the internet it's not true. Twitter has now taken an aggressive approach to Terrorist activity on their site. Since mid-2015 Twitter has deleted more than 360,000 accounts linked to terrorists. The company uses human judgment and technology to scan millions of accounts for terrorist-related activity. The results displayed seem to be successful. However, this does link to J.M. Berger's 2014 research showing that there has been evident growth in the number of terrorist twitter accounts.
This approach will surely limit the way propaganda is spread on twitter feeds. It may even force terrorists to look elsewhere to promote content.
Although, it could be argued that this won't stop terrorists on twitter completely. The issue is ISIS supporters will create new accounts after they are suspended on Twitter. This new profile will then be retweeted by other ISIS-related twitter accounts. Therefore, they regain their followers and are free to start posting propaganda again. This creates a loophole in twitters banning system which really needs to be fixed.
How you can help!
This is where you come in. If you do see any terrorist activity on twitter or any social media platform make sure to flag it up by using the report feature. Just think you could be saving lives.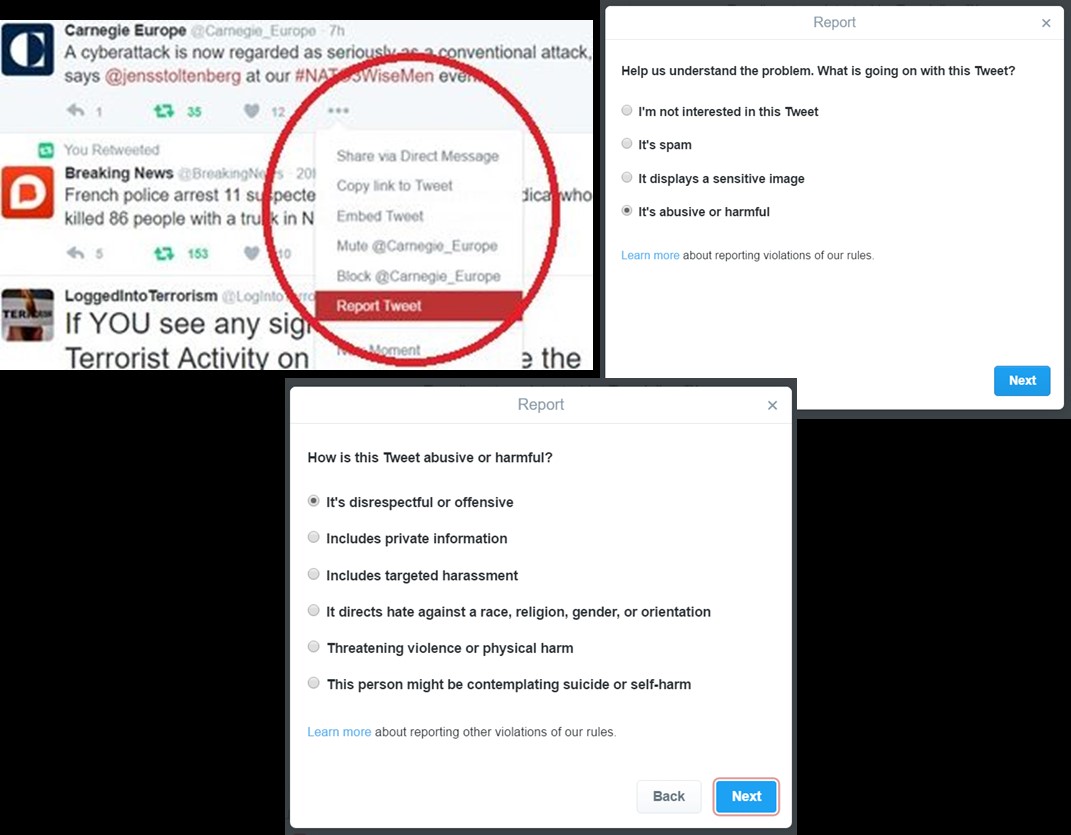 To report a post on Twitter simply click on the three dots under a tweet and click 'Report Tweet'. Finally select the appropriate options and submit. Check out Twitter Support for more info.
---
Hope you found this blog post informative, giving you vital information about the way propaganda has evolved and the way terrorists are using twitter to promote their views.
To help prevent any confusion or disconnect from what online terrorist propaganda is, make sure you share this blog using the links below.
Thanks for reading. Next week's topic will focus on Recruitment.