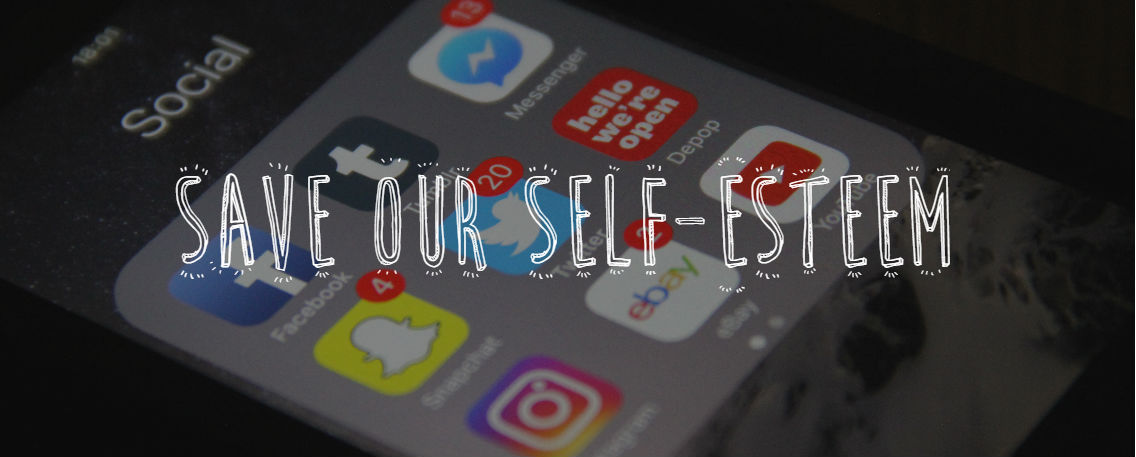 The topic of this post is something that affects me greatly, and has done for quite some time. Social media has both its good and its bad elements, and 'likes' are one of those which could be either. A 'Like' tends to mean you.. well… like something. It could be a selfie, a pretty sunset picture, an animal picture. Across most social media platforms- Twitter, Instagram, Facebook, Tumblr- liking a post is seen as a positive. Little do we realise, likes are just one of the ways social media is capable of killing someone's self esteem.
MY STORY
As someone who has been struggling with self confidence issues for years, I never thought I would be capable of getting that much positive attention on social media. I remember getting so excited when the likes under an Instagram post would change from names to numbers, or my Facebook picture would get more than 3 likes. It was almost like I was getting reassured that I wasn't as bad as I thought I was.
I began following Instagram 'famous' people, who would get thousands of likes on an image in a matter of seconds. Or the Tumblr girls who were stick thin and heavily made up yet got thousands of notes. And that made me compare myself to them. I wondered why I wasn't as good as them.
In fact, this was an issue that affected me so much that aged 18, I decided to make a video about it. Named 'WHY TUMBLR IS AWFUL', this video was a reminder to both myself and those who watched it that these social media famous people aren't real, and we are attempting to idealise unrealistic models. I then made 'BODY CONFIDENCE CHALLENGE' to help try and counteract what social media had done to me.
Unfortunately, I'm not the only person who has this issue with social media. I asked the people of Twitter "Have you ever found yourself comparing to the unrealistically 'perfect' people you see on the Internet?", and sadly, 56% replied with "Yes, all the time" with an additional 21% stating "Sometimes".
HOW IT AFFECTS US
Bustle's article talks about 7 Ways Social Media Can Affect Your Self- Esteem, not just through the battle for likes, but also the comparison between our own life and the perfect life of other people. It also creates this idea of false connections- we feel as though we have made a 'friend' but the friendship isn't real.
It can also be detrimental to our mental health. We are constantly shown images of stick thin, perfectly toned models who are believed to be 'the ideal'. And that's what we desire to be. We are not told that these images are Photoshopped, or that it's down to lighting and camera angles, or perhaps that person is lucky enough to have that body naturally. We give ourselves unrealistic goals, which we achieve in the most unhealthy way, such as starving ourselves or "clean eating".
Some people also might find themselves taking images that aren't exactly in their character. For example, a girl with her cleavage out supposedly gets more likes and comments, particularly from the 'wrong kind of people'. But even if this isn't the desired kind of attention, it's attention, right? Which means someone who is insecure is more likely to post a more revealing image to gain more attention. Furthermore, we create this 'bond' with mutuals online, meaning we feel as though we can trust them more, and publicise perhaps more private images, completely forgetting that a larger audience can access those images.
IS SOCIAL MEDIA AFFECTING YOU?
But how do you know if you are allowing yourself to be affected by social media? Well, there are a number of signs which can tell you.
Do you crave likes, comments and followers? Do you proudly watch the likes on your photo increase?  Well, this is just one of the many signs which highlight just how much you allow social media to affect your self esteem. However, this can affect some people more than others. For example, you feel as though if you don't reach a certain number of likes, you are not looking your best or you're not doing as well as you could be, putting your mood down. If this is you, then it's time you take a break.
Perhaps you compare yourself to the people you see on social media, and idealise something that you physically cannot achieve to be. You want to look like that Instagram girl who gets 10,000 likes in 4 minutes, but it is impossible. And by comparing yourself, you are making yourself feel bad over something you have no reason to feel bad about! If you feel like this is you, you need to remember that as long as you are yourself, you are perfect. Dress how you want, do your hair and your makeup how you want. As long as you are happy and comfortable with who you are, that is all that matters.
Find yourself talking to people online more than you do in real life? Those who suffer from things such as social anxiety and find it difficult to converse in real life find comfort in being online. What could be better than being able to talk to multiple people at once while hiding behind a screen? Although this sounds like it could be beneficial, it's actually the opposite. These bonds and relationships aren't necessarily real, and you cannot hug a computer or phone when you're feeling sad. Social networking is preventing us from making real life friendships, so even if we don't feel alone, we actually are.
What about the panic that you haven't put up a selfie or a tweet today? If you find that you are thinking about whether you've got a selfie or post planned for that day, or that week, rather than just living in the moment, then you are allowing social media to affect you. Social media should not be that important that you are worried as to whether you have a post to put up or not! Live in the moment, and if someone takes a pretty photo of you, or you take a cute selfie, then post it, but that should not be your priority!
If you ever feel your self esteem being affected by social media, take a break. Go out and meet your real life friends. And maybe, leave your phone at home.
I hope you all had a wonderful Christmas, and have a Happy New Year! Keep an eye out for the next blog post, and remember, your comments and contributions do matter to me, so please Like the Facebook page, follow my Twitter, or comment down below.