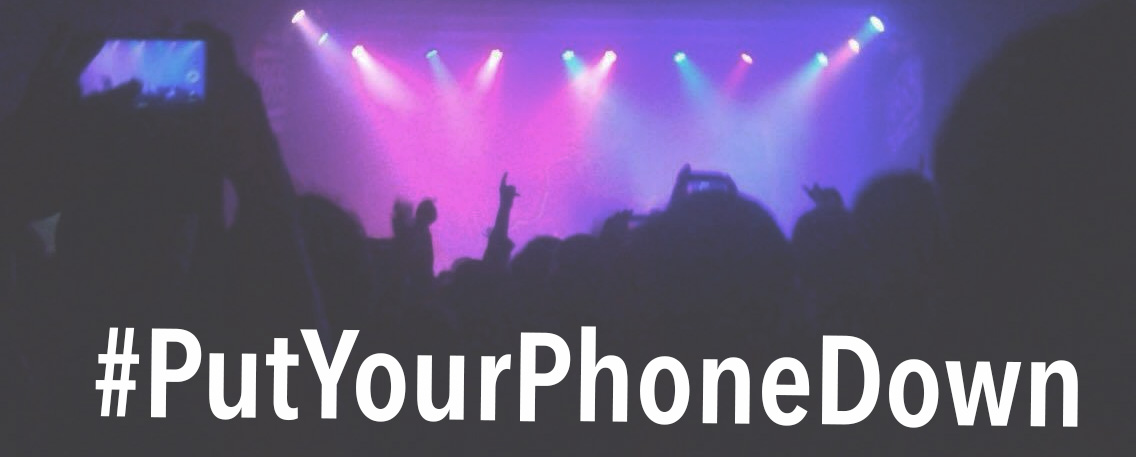 We've all done it- we meet up with our friends, our family, or we even go to a lecture (you know, that place where we're supposed to learn), and all we do is sit there on our phones. It's not because we're being rude, it's an addiction. And according to Seventeen, there's actually a name for it- 'phubbing' or Phone Snubbing.
To those who, like me, did not know what snubbing is:
Snub
verb
to insult someone by not giving them any attention or treating them as if they are not important.
GIGS, EVENTS AND YOUR MOBILE PHONES
Not too long ago, I went to a gig and saw my favourite band who I had waited years to see. Admittedly, I filmed snippets throughout the night so that I could go home and rewatch them in my bed and cry because I wish I was there again…
However, this is something that is causing a lot of controversy, but why is that? Take Green Day, for example. The famous (and utterly brilliant) punk rock band told The Daily Star "You can take your picture but let's have eye contact, let's have a human experience right now you can't capture on a cell phone. Why would you want to listen to your favourite song going like this [holds arm in air] when you can just hear it right in front of you? I feel like a little more human contact is good."
I passed this question to Facebook, where someone replied "Honestly, I hate phones at gigs. Rather than engaging in the support bands or even the headline, so many people are snapchatting or looking down at their phones. As a performer, I find it f***ing ridiculous the amount of phones I see at shows and it also really knocks musicians confidence too."
NME argued a brilliant case back that "people are able to get pretty decent footage and photos, images that they'll ping onto Instagram or share with mates, which will give them a lasting reminder of a great night out" after all, we're paying for that gig, right?
Having your phone out at a gig is one thing, but we live on our phones. The first thing we do when we wake up is we check all of our important social media apps for any updates that we might have missed throughout the night. Real life socialising is no exception. Let's look at Snapchat, for example.
LIVING A LIFE FOR THE CAMERA
Snapchat came about in 2011. As of 2015, there were 110 million daily users. Snapchat allows us to send selfies, videos, things that perhaps we shouldn't send, for up to 10 seconds and is then deleted. It also has the option to put up a 'story'. I mean fair enough, if I was a Kylie Jenner fan, I would feel lucky to have her on Snapchat and see what she's doing. But why should I be interested in Ben from London's night out with the lads? Why am I interested in Sasha's new outfit? I'm not.
But we feel as though we need to share every tiny detail with the world. The dinner we eat. The friends we see. The places we go. No one is really interested, except maybe that person who has fancied you for the last 2 years. So why do we feel like we need to share it?
Although we are all guilty of this, I conducted a Twitter questionnaire to see how people really feel about their friends living on their phones while they're out. The results were shocking.
I even had the response "When you're with someone and they're on their phone constantly it makes me want to throw it out a window".
So do yourself and your friends a favour, and go out for a nice meal or a coffee or a night out, and leave your phone hidden away somewhere. Enjoy the moment.
If you have any comments or to add, feel free to contact me on my 'Contact' page, or simply comment below!