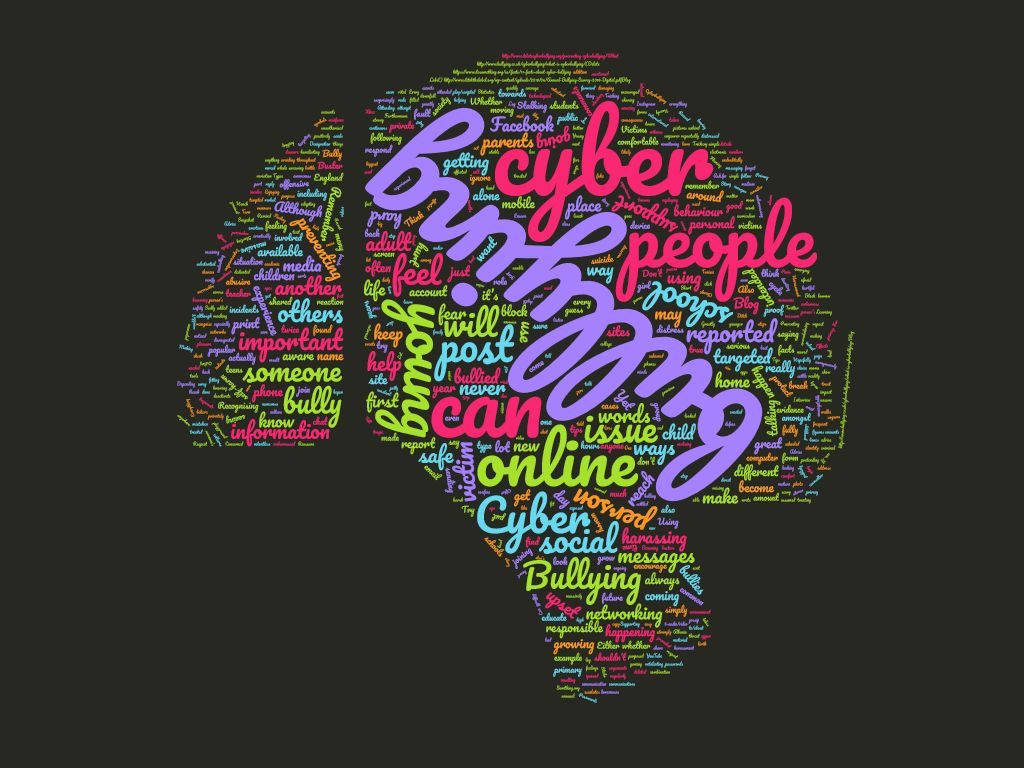 'Sticks and stones may break my bones, but words will never hurt me' a popular saying which most, if not all have heard before. Yet the harsh reality is that words can actually hurt, whether expressed online or in person. 'Cyber Bullying is the act of using electronic communication intended to hurt or embarrass another person.' (nobullying) https://nobullying.com/
Technology is constantly developing and taking a firm centre part in pretty much everyone's lives, and it can be questioned how healthy this increased online obsession in our society really is? Cyber bullying has been an ever growing issue since technological devices have become so accessible to everyone, especially amongst young people.
The most common social networking sites in which cyber bullying takes place are messaging apps like WhatsApp and BBM, chat rooms, Facebook, Instagram, Snapchat, Xbox live, gaming sites and even YouTube. All of these sites can be used positively and for great pleasure amongst people, yet they can also become a dark and damaging nightmare for many young victims of cyber bullying. Often people can be fuelled by a world of online temptation, hiding behind a computer screen attacking, harassing and tormenting other vulnerable users.
And on another note- welcome to my blog! My main focus is to raise awareness on the devastating truth about Cyber Bullying. I will be providing knowledge about cyberbullying with the aim of educating you on the ins and outs of the issue. Encouraging people to join together to begin to put a stop to it and helping to keep young people safe online. I hope to stimulate a passion for change and promote kindness. "You have the power to make the world a better place by being kind to someone today." – Joyce Meyer.
Types of Cyber Bullying
Let's begin with highlighting a few forms that cyber bullying can come in. Sadly there is not just one way of bullying someone online. There are a lot of different ways. It is very important to recognise them as they can often be mistaken and not noticed as a form of unacceptable online behaviour. With the amount of time per day I'm sure we all spend surfing the web or scrolling through our social networking accounts. I can comfortably say that we have all come across at least one of these forms.
Do you ignore them? Do you sympathies with the victim but stay silent? I cannot stress enough how much difference you could be making if you ever noticed these forms of cyber bullying and reported them. Below are just six different ways someone can be bullied online. Take a good look and see how many of them you have come across and avoided. Think about what you can do differently in the future.
What are they?…
Harassment – This is when someone sends rude, insulting or offensive messages about another, being abusive towards them. Nasty or humiliating comments on another person's photo / post or publicly on a social media site.
Denigration – Having information being make up about another person / sending out fake information. Starting rumours and spreading gossip. This type of bullying can happen on any social media.
Flaming – The intended use of really extreme and offensive language (swearing and abusive words) and getting involved in verbal online arguments. In aim to cause a reaction from others. Enjoying the fact it causes others upset and distress.
Impersonation – Someone else pretending to be another person without their consent. They will hack into their social media accounts and use their online identity to post and send vicious content with the aim of embarrassing them.
Outing and Trickery – The unauthorised sharing of someone's personal information. Tricking them to often forward or share secrets that they do not wish to be shared.  Can sometimes be done in the form of private pictures and videos.
Cyber Stalking – Stalking another person online by repeatedly sending messages of threat and harassment. Making a person fear their own safety of leaving their home. Depending on the depth of this type of bullying it can also be a criminal offence.
These types of cyber bullying found on: http://www.bullying.co.uk/
Facts and Figures
Below are five surprisingly true facts about cyber bullying which I found on Do something.org. Every single one of these facts is too high and may even be hard to believe. Cyber Bullying has undoubtedly taken core root in our society. It is vital to get to grips with the emerging issue and begin to find ways of controlling it because these figures will yet again grow.
Nearly 43% of kids have been bullied online.
1 in 4 has had it happen more than once.
70% of students report seeing frequent bullying online.
Over 80% of teens use a mobile phone regularly, making it the most common medium for cyber bullying.
81% of young people think bullying online is easier to get away with than bullying in person.
Do Somthing.org: https://www.dosomething.org/us/facts/11-facts-about-cyber-bullying
The Rise of the Mobile Phone  
As discussed above, cyber bullying is an issue that is ongoing. The progression of mobile phones took off in what seemed like the blink of an eye. New models being designed almost every month, keeping up with the new and latest phone seemed relentless. When the first iPhone was released in 2007 the mainstream demand for its 2g was the sharpest new trick available to us all. Mobile phones being so accessible now to almost everyone and over 80% of teens using a mobile phone regularly can seem like an alarming amount. Making it the most common technological device for cyber bullying to take place.
If I remember rightly the first mobile phone that I got was for my 12th birthday. It was a pink flip phone, of course. Surprisingly I am now aware of children as young as the age of 7 having their very own iPhone. It seems fascinating to me now to get my head around what a 7 year old could possibly need the latest model of iPhone for? Baffling- but then again this answers its own question in itself. It almost becomes obvious as to why cyber bullying is so common amongst young children in our society. They use their phones for nothing more but recreational purposes. Having on hand access to pretty much any social networking site they can download from the app store.  WhatsApp, BBM (if that is still a popular thing amongst young people?), chat rooms, Facebook, Instagram, Snapchat, Games and even YouTube. The list really does go on, exposing them to a dangerous world online.
---
Coming up on Cyber Bully Buster
My upcoming blog post will be on helpful tips and advice when it comes to keeping ourselves safe online. Followed by a brief guide on what to remember if you are being cyber bullied.
Want to know more? – Don't forget to check out my Twitter and Facebook