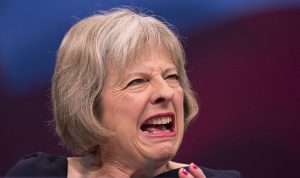 Crumble? But they won I hear you argue, yes evidently Theresa May is still our prime minster. But! in terms of the social media election, Conservatives ran an ineffective and unsuccessful digital campaign. Arguably this is why Theresa May failed to attract new voters, or even keep the ones she already had, with her social media strategy being said to have played a factor in May's failure to win the overall majority. No political party won the majority in parliament this year, Theresa May's conservative lost seats in England and Wales to Labour and the Liberal Democrats. It was clear that the 1 Million Theresa May's spent on her negative Facebook adverts didn't pay off as Labour gained seats.
Labour were able to appeal to their audience whereas the Conservatives failed to understand the basics of Facebook advertising. The results have left the conservatives no choice to rethink and rebuild their digital strategy, even the party candidate themselves described their social media campaign as 'disastrous'. They were ridiculed for the generic party slogan 'strong and stable' that was plastered all over Facebook. If the conservatives spent £1m on their social media campaign, they clearly knew the importance of it, they just didn't appreciate how to use it to market their campaign.
'We are social' showed that Labour saw a 61% increase in followers on social media during the six weeks of election campaign, compared to a small 6% rise for the conservatives. They missed the opportunity to target young people through the use of social media, they missed power of this digital age! They were fighting an opposition party with over 500,000 members, social media was more important than ever.
The power of social media, means you can target any one at any age, in any location and with any interest and speak directly to them. Thousands of business' would envy the power and money political parties have to be able market their campaign via social media, it's just a shame the Tories failed to make the most this opportunity. Before the influence of social media the political campaigns were mostly through word of mouth and face to face campaigns, this was limiting as its geographically impossible to engage with everyone. Facebook, Twitter and even Snapchat allows a single person to engage with hundreds of thousands of people per day, what a brilliant way to get your message across!
That being said, you're message counts, just like first impressions. If the conservatives are sending out irrelevant messages to their digital audience, it immediately puts them at risk at avoiding a key young audience. I mean what young teenage cares about whether or not a party is Strong and Stable? Anyone can say they're 'strong and stable', conservatives needed to talk and target topics that appeal to a minority audience. They way Labour did with University tuition fees. Relevance is such be a key aspect into any marketing campaign and with all the money the Conservative party spent on their digital strategy, it should have been more efficient, maybe then they would have won the majority Theresa May hoped for.