Top 10 Tweets from 2017 General Election 

Why not highlight what huge part Twitter played in this years debates then to share some of the best things to come from this years election.
1.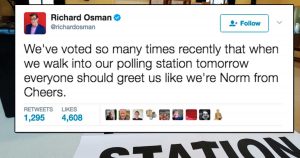 With this years election only a year after the EU referendum and 3 years ahead of schedule, Richard Osman cheered his way in to first place.
2.
Now this Scobby Doo reference couldn't be more fitting to the situation…
'Would have gotten away with it if it wasn't for those pesky kids…' #GE2017 pic.twitter.com/s9cXYQN5ot

— Me (@_Lady_Gardener) June 9, 2017
3. Again highlighting how Britain never fail to find comedy even in the most serious of moments.
Emily Maitlis once again stuck swiping left on the world's worst Tinder selection #GE2017 pic.twitter.com/NNe7JUchpI

— Mic Wright ??‍?? (@brokenbottleboy) June 8, 2017
4.
Here is the thrilling moment a fly landed on David Dimbleby's face LIVE #GE2017 pic.twitter.com/Z9BGBjcNfv

— Scott Bryan (@scottygb) June 8, 2017
5.
#GE17 in a nutshell: pic.twitter.com/uwVPJVAx56

— Ross Playle (@RossPlayle) June 9, 2017
This one had to make the top 5.
6.
Theresa May facing a hard breakfast.

— HaveIGotNewsForYou (@haveigotnews) June 9, 2017
7.
This picture looks like Tim Farron has just saved the earth from a giant asteroid in the worst Michael Bay film ever pic.twitter.com/uVT1LqX2md

— Alan White (@aljwhite) May 9, 2017
8. Oh the power of Wikipedia …
Someone has added Jeremy Corbyn to BBK's Wikipedia page. #grime4corbyn pic.twitter.com/6LEAkSh5tX

— Rachel McGrath (@RachelMcGrath) May 16, 2017
9.
Theresa May's Facebook Live interview is going well pic.twitter.com/ep85htOVMN

— Ben Skipper (@bskipper27) May 15, 2017
The Tories really did lack social media support didn't they.
10.
all i want is for someone to look at me the way jeremy corbyn looks at jme pic.twitter.com/pJN9hNnjH6

— chelsea (@meIonyellow) May 14, 2017
Oh Jeremy …