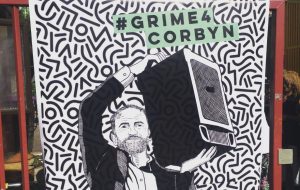 Corbyn's successful digital campaign led to hundreds of grime artists showing their support for the Labour leader with the lights of MOBO award winning Stormzy, who has over 890,000 followers on twitter 'Digging what Jeremy Corbyn says'. Grime is a genre of music that emerged in London in the early 2000s. It initially spread among private radio stations that had a small following before recently achieving a much mainstream recognition in the UK. Grime is recognized as a creative and innovative musical style but respectively, the idea that the music is the package of "youth making music for youth" is seen as the crucial factor for grime's success. With that as a key message and Labour's key aim to support the younger generation it was no doubt that the internet would bring together such an unlikely pair through their common ground.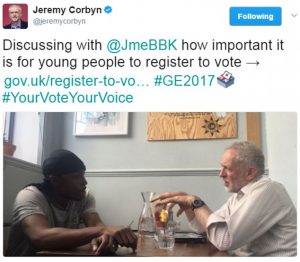 The aspiring key objective that both Grime artists and Corbyn adopted was not to pressure young people with who they should vote for but to simply just vote! This year's general election proved that you're vote really can make a difference with results showing that a record breaking 72% of young people turned out to vote in this year's general election. I mean, the election might not have given Corbyn the overall result he wanted but he should certainly be proud of that! In my eyes young people are the most important people when it comes to a general election as its their future Brits are voting for. So hats off to Corbyn to targeting the young audience, he even kept 'down with the kids' by regularly adding videos to the social phenomenon that is snap chat.
https://twitter.com/UKLabour/status/869220809822187520/video/1
As part as their digital campaign Labour published videos with popular Grime artists who highlighted some of the key messages from the Labour party manifesto. Above AJ Tracey speaks out about the Labour party and how they're going to tackle the housing crisis, highlighting Labour's aim to give young people a positive future. We all know celebrity endorsement sells and with AJ Tracey touching on such personal topics, young people (seemingly grime fans) feel connected to him on a personal level which instantly gains supporters. According to an analysis by Buzzfeed News, Labours celebrity endorsements were the most shared election-related articles on Facebook. In total, his celebrity related articles were shared around 971,700 times, significantly more than the posts relating to Labour's rise in the opinion polls, which received around 557,600 shares.