Merry Christmas folks!
It's Christmas Day and I'm currently sat by the fire with my pudgy Pug as we mourn the loss of roughly 200 pigs in blankets. Although I've had yet another magical Christmas with my family, I can't help noticing the loom of Social Media and how it's ruining Christmas. Christmas offers the perfect opportunity to spend time with close family and friends and completely disconnect from the internet, though many of us still log into millions of social media accounts to share pictures and videos of our special moments.
Expectations

, 

expectations

, 

expectations

...
Christmas seems to just be about expectations these days, and it's very easy to loose sight of what really matters. Looking through social media feeds on x-mas morning could potentially ruin your day. Naturally, as humans, we tend to do this god awful thing where we have to compare our lives to others we see online. Whether it's a celebrity or just a pal, someone is always doing 'it' better. Christmas is a time to show off. It's easy to look at a pic on Instagram and think "I wish that was me". Recent studies have suggested that spending too much time on social media could be having a seriously bad effect on our mental health. Instagram, home to millions of 'perfect' lives. Throughout the Christmas period, the idea of a 'perfect x-mas' isn't thrown around lightly. Around December, Instagram and Facebook are crowded with snaps of extravagant Christmas decorations or the latest lavish gift sets. Unfortunately, we live in a world where not everyone can afford to be showered in luxurious Calvin Klein underwear or gorgeously potent bath bombs from Lush. Researchers from the University of Copenhagen released findings suggesting that viewing a large amount of social media posts over Christmas can make users:
"envious and even cause a deterioration of mood as people create unrealistic social comparisons". University of Copenhagen
Scanning through Instagram today only reiterated my argument. Take a look at some of the posts under the hashtag 'Christmas'. Unrealistic social comparisons are unconsciously made when viewing what other people got that you didn't.
You finally got the beautiful pandora ring you'd been dribbling over all year.
Well Kimmy K got 20.  Soz. ?
Facebook has recently struck headlines.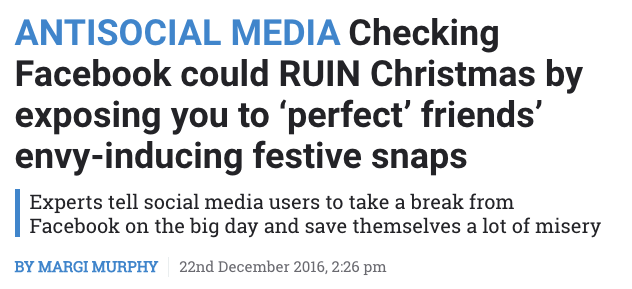 Studies suggest that "regular use of social networking such as Facebook can negatively affect your emotional wellbeing and satisfaction with life." 

Cyborg Santa
What happened to the innocence of Christmas?
I'm only 20 years old but even I've noticed a real difference in the way kids see Christmas these days. Kids are often so fixated on the latest Apple iPhone they don't even have the time to check if Santa's touched his midnight milk. Social media has the ability to mask traditional ideas of 'Christmas' by smoothing children with contemporary gift ideas and expose the bitter reality behind 'Santa'. Thanks to the internet – your children already know what they're getting for Christmas. This leaves a financial strain on the majority of parents (turning them into scrooges) and it's a sad and frightening thought to imagine what our children of the future are going to grow into.

Is it even Christmas if you haven't posted about it?

The rise of Snapchat 
Throughout the holidays, it is easy to become engrossed in social media. Although Christmas is a time for sharing, I doubt this means filming every single hour of the 12 days leading up to Xmas. I'm sure many of you will be aware of the oh so popular app 'Snapchat'. An app that allows users to post every single second of their life online, instantly. An app that allows you to communicate through instant picture messaging and follow the lives of 'Snapchat' friends from the click of a button. Snapchat 'stories' enable users to post pictures and videos (of up to 10 seconds each) of what they're up to at whatever time. It's 2016 and the most important part of a Christmas dinner is taking a snap of it and posting it online rather than eating it. It's about who has the best-looking roast potatoes, not about how it tastes. Oh, and It's most definitely not about the 5 hours of back-braking cooking Mum or Dad endured, it's about making sure your plate of food gets the most likes on Insta. Cheers guys!
Jokes aside, with the recent expansion of social media and the importance of social status, recording Christmas on your phone seems to be more important than actually being there. Ever heard kids complain about 'Christmas at Grandma's' and how it's SO painfully boring? I know I have. I'm sure Christmas at Grandma's is far less exciting than being sat at home staring at a computer screen. It's Christmas! A time to appreciate the company you have been blessed with and surround yourself with people that love you, not thousands of gift expectations. Awwww ?‍?‍?‍?
Social media has managed to weave its way into everyday life, so it is not a surprise that it is beginning to take over traditions. In 100 years time will kids even care about Santa? Perhaps only through the eyes of their virtual reality headsets.
Take a look at how far Facebook has come throughout the years…
Here's what my Facebook looks like now. Maybe in a few years, even this will look old… 
My next discussion will be on the importance of 'likes' online.  I'm sure most of you teens like myself at some point in your life have been slightly thrilled/excited over the number of likes you've received online. Facebook is just one of the sites that enable users to 'like' others photos, activities, updates and interests. Due to our ever-expanding net of social media – the obsession with online likes has taken over.
How far would you go for a like? 
I dedicate this blog post to George Michael who sadly passed away today. Merry Christmas and rest in peace you legend.