The universal shift from traditional print journalism to online, multi-platform based journalism continues its trend. 
As technology has developed in recent years, various experimental approaches have emerged as the industry bases itself further into the digital realm.  These range from the use of virtual reality and chatbots to embracing metered paywalls and represent the digital future of news coverage and distribution.  However, in recent years Snapchat has not only presented itself as a popular alternative social network and messaging service but also as an innovative source of news for young people.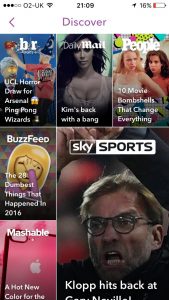 With 150 million daily users, Snapchat has recently overtaken Twitter as one of the most popular Social Network apps on the market.  Whilst it is relatively small compared to Facebook which boasts a user base of 1.2 billion, the intimacy and unique technological qualities combined with the company's youthful audience and daring business plan explains the hype and potential of the app.
At the start of 2016, The Wall Street Journal and The Daily Mail became the first newspapers to strike a deal with Snapchat, each securing a spot on the Discover page. 
The opportunity was recognised as a way of interacting with a younger generational audience as well as introducing a new stream of revenue.
Whilst the effectiveness of this move is unclear as of yet, a lot of value can be placed on Snapchat's pioneering, unique model of social networking.  The short life span of pictures posted on Snapchat quashes fears of consumer posted content following them round and contributing to their online profile.  More importantly,  the emphasis placed on the very human and intimate editing process behind posting a Snap creates a level of authenticity that is sought after in today's culture of 'fake news' and instant information.  Consequentially, we have seen cases where rivals such as Facebook and Instagram try to replicate a similar feature within their service.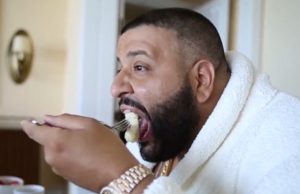 Because of this feeling of authenticity behind each post, the app is popular with celebrity culture, acting as a tool for fan engagement.  Some of the most widely followed Snapchat channels include DJ Khaled and Kylie Jenner as followers are provided with further access and deeper insight into their lives.  The personal nature of Snapchat is also transferrable to the way they treat and present news.
Live Stories are one of the main features of the app and allow users to access a story made up of different handpicked snaps taken by users in that geographic location.  These often provide live coverage of events such as football matches or fashion shows but on 28th November, Ohio State's Snapchat story provided live updates on a campus terror attack in which eleven people were injured, one critically.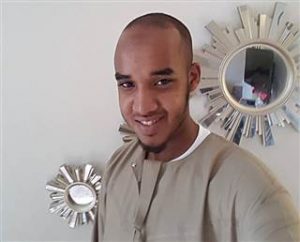 The Snap story carried all the informative qualities of a traditional news report but came from the point of view of the students and staff involved with the incident.  Instant reactions and interviews with witnesses mixed with images of students taking refuge in classrooms and barricading doors for protection provides a real sense of empathy and depth in insight that is impossible to match with any other existing format.
Earlier in the year, Snapchat curated a Live Story of the American, Kurdish and Iraqi forces battle to take back the city of Mosul from Islamic state militants.  Again, intimate, home video style snaps provided a very personal sense of life on the front line as well as informing viewers of news worthy socio-political context surrounding the events.
Whilst it is unlikely Snapchat will pose a real threat or challenge to current leading news sources, it is worth noting the significance of its content because of the foundation of 16-24 year old users it is built on.  What will happen in the future is of course subjective, but the rate of change we have experienced in the last 5 years suggests content consumption will be very different and Snapchat could play a part in some capacity.