OR: An insight into how technology has affected our perception of relationships and online services
Bestworld?
Recently the HBO television series Westworld hit our screens, and instantly redefined the term 'robot-sex'.
No longer do you have to convince your mother that your relationship to Qu1rkyGirl92 is wrong or weird. You now have Sir Anthony Hopkins and his brand new logic to hide behind.
Or not.
I mean Westworld is more a study about the complexity of human nature and desire, with an underlying plot surrounding the immense technological progress that human beings could stumble across: developing artificial consciousness and reinventing what the term 'entertainment' could mean.
And Qu1rkyGirl92 is more likely a 52-year-old man with a passion for taxidermy and World of Warcraft.
But Westworld, as an example, got me thinking.
What are the chances that technology could progress to a point where friends, villains and even lovers could be artificially created from thin air? What would the backlash against this consist of? And who would indulge in such a seemingly impossible technology?
And then I realised. This has been around for years.
Think about group chats, friend requests, online communities creating friendships between strangers from such tenuous links.
Dating websites- constantly sparking relationships which have led to lifelong marriages, for people who would never have come across each other otherwise.
And finally internet trolls and cyber bullies- quietly filling out the villainous roles of the internet community. [but you knew that. #Episode1:ARecurringMenace]
Instant Gratification
Much like the Man in Black in Westworld, it's not difficult to become addicted to this 'certain' kind of lifestyle.
In fact, Neil Patel has detailed a particular kind of pleasure taken from what is known as 'instant gratification'. And now that we are always plugged in, the dreaded idea of having to wait is minimalised existentially.
We are given instant feedback on our status updates, tweets and video uploads via a 'liking' or 'favouriting' system, and a comments section allows for quick-fire conversations between uploaders and viewers.
We're even instantly told when a message has been sent, when it's been received and when it's been seen. Just to provide that extra little bit of anxiety about whether or not someone likes you to your daily routine.
In a way, addiction to this instant-access-kind-of-deal, is almost impossible to ignore.
It justifies why as a nation we find our heads buried in our mobile phones on every public transport service we can. Are you really being rude by not talking to sweaty strangers, if what you're actually doing is reading equally sweaty strangers' Facebook rants?
Also, the rise in this 'instant-messaging' format, has caused human beings' service expectations to rise dramatically. Everyone wants everything instantly now, and as a result, business ideas have flourished.
Delivery services can now be at your doorstep at an exact time on an exact day, with specific instructions precisely communicated between the deliverer and the deliveree.
24/7 chat services or phone lines satisfy customers immeasurably, and are becoming more and more common.
And it even begins to explain why such click-bait advertisement titles work so well. Gain 6 pack abs in 6 minutes? Why the hell not.
The Drawbacks
Yes, yes, instant services and 24 hour phone lines all sounds pretty good so far. But what's the drawbacks of all this?
For one, instant gratification and online communities are the antithesis of what is commonly known as the "Cheers Factor".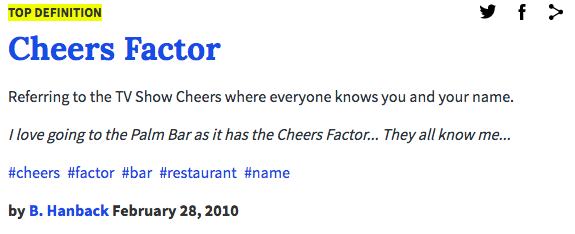 Maybe you do know someone via the world wide web that you'd have never engaged otherwise. But maybe that's a bad thing?
Relationships develop through consistent conversational transactions in the real world. It can really take time before you get to like someone, and not just their status updates (Hence developing the "Cheers" factor).
And yet, somehow I'm 'best mates' with some John Doe with a cocker spaniel and four ex-wives just because we frequent the same sub-reddit page, and he sometimes pokes me on Facebook.
I wouldn't dream of poking this person in real life, let alone having a conversation with the nutter. [cue intense shudder]
And that's just the problem.
Too many of us are becoming addicted to the fabricated instancy of the online world. Maybe we should throw our digital towels in the ring?
Saying that, make sure you follow me on Facebook and Twitter for instant updates on blog posts.
P.S. if you're reading this in the time when our robot overlords have taken over, I didn't mean any of the negative stuff. #Facebook #rulez!
Sam Milligan