Digital reviews have revolutionised the way we discover opportunities for leisure. 95% of leisure travellers say they read online reviews before making a booking, spending an average of 30 minutes doing so.
In the UK, wages are currently refusing to grow at the same rate as inflation. As a result, the population is working more hours to make ends meet.
For many, free time is a scarce and precious resource which they don't want to waste. Spending leisure time having satisfying experiences is important to those wanting to feel the benefit of a healthy work life balance.
Reading reviews can improve the quality of leisure time
Anyone connected to the internet can easily rate a place or activity they have taken part in. A huge variety of opinions, both positive and negative, are now available online on everything from bars, to supermarkets, to quad bike rentals.
Ratings services such as Tripadvisor and Google Reviews are hugely influential to leisure travellers, with a BrightLocal survey showing that 88% of people trust online reviews as much as personal recommendations.
If someone is looking to head on holiday and stay in affordable accommodation, booking sites such as Hostelworld have user review systems in place which allow the public to ensure their room will be highly rated by others, and won't lack in important areas such as location, security and atmosphere.
Such a widespread variety of opinions on activities and accommodation did not exist in the pre internet era. Instead, the opinions of friends/family or the possibly biased recommendations of travel agents were the main basis of knowledge on the best places to go.
Reviews hold leisure providers accountable and improve their services
 Sometimes, an experience which was supposed to provide an enjoyable break can turn unexpectedly sour. In this case, people can make a complaint publicly via review platforms. Consider, for example, the negative Tripadvisor review for a restaurant below, which outlined an important health and hygiene issue: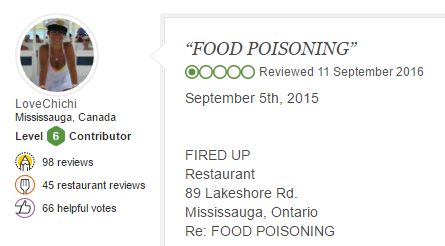 Readers of this review can see that the author posts frequently and is highly 'ranked' by the Tripadvisor team. This gives an element of trustworthiness to her comments. Undoubtedly, the situation she describes acts as somewhat of a red flag for others who may have considered spending their time and money on the restaurant in question. As with many negative Tripadvisor reviews, it warranted a company response, as shown below: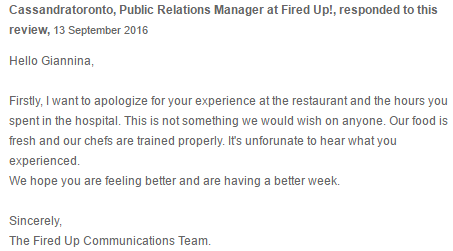 The restaurant is quick to make a sincere apology, but also clarify that the "food is fresh" and the "chefs are trained properly". Though the resteraunt does currently retain a 3.5/5 rating overall from customers, they will have to strive to keep this promise now that a claim of food poisoning is publicly available.
This system of public 'shaming' may seem a little cutthroat at times. People occasionally have irrational motives for writing poor reviews, as is perfectly displayed by these hilarious examples of company responses to unfair criticism on review site Yelp.
Perhaps it isn't healthy to rely on reviews for every decision we make during our leisure time. However, the ability to understand how other people feel about various places and leisure activities is empowering.. So, too, is the ability to contribute to this body of knowledge, and maybe even influence how businesses and activities are run.
Finally, here is an infographic by Invesp

Infographic by- Invesp