Men, Mental Health and Technology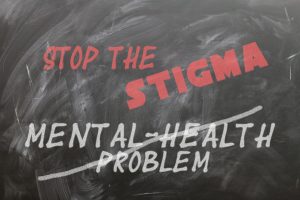 There has been a lot of stigma attached to mental health, especially when talking about men. Mental health is something not that widely discussed between people, despite of the wide popularity of the issue on social media websites. It almost seems like people either don't take it seriously because it is generally not linked with physical pain, or they simply believe that things will get better with time. It may be said that this is particularly true about men who, since an early age, have been socialised with the notion 'men don't cry'. In fact, a 2016 survey by Opinion Leader for the Men's Health Forum, indicates that:
"The majority of men said that they would take time off work to get medical help for physical symptoms such as blood in urine, unexpected lumps or chest pain, yet fewer than one in five said they would do the same for anxiety (19%) or feeling low (15%). 38% would be worried that their employer would think badly of them if they took time off work for a mental health concern – compared to 26% for a physical injury".
The above is very indicative of men's attitudes to serious and quite dangerous mental conditions due to stereotyping.
The documentary The Mask You Live In (2015) follows American boys and young men as they struggle to stay true to themselves due to compliance with narrow definitions of masculinity. Although, this is based in America, the findings are particularly true for numerous nations around the world. The question they ask is: As a society, how are we failing our boys?
The whole idea of what masculinity should be is cultivated in men's minds through the multiple missrepresentations that they are bombarded with in their families, communities and mostly in the media.
"Boys and young men learn from early age that being a so called 'real man' means you have to take on this 'tough guise', in other words you have to show the world only certain parts of yourself that the dominant culture has defined as manly " – Jackson Katz in Tough Guise.
Strong, independent, powerful, physical, intimidating, in control, respected, hard, tough are some of the cultural definitions of the so called 'real man' and they certainly don't correspond to what depression turns people into – exactly the opposite of those characteristics. The pressure to conform, put up the act and be one of the guys is immense. Statistics speak for themselves and it appears that those who seem the strongest, are those who need help the most.
Being a daughter of a man who's fighting depression and anxiety for quite a long time now, I know how hard it is for men to open up about their thoughts and feelings. I wonder what it would be like if my father has someone he could talk to without any worries how this person would perceive him, or whether they would judge him or not. My father has always been a bit old fashioned, and neither mine, nor my brother's or my mother's views match with his own. Of course, no one is to blame for my father's problems, not at all, it is just the fact that we don't make it easier for him to talk about them. So, here is when technology might prove helpful. As Pete Trainor mentioned in his interview for The Human Factor "Sometimes you don't need [councillors, doctors, professionals, human beings] around you as you may feel judged by them".
"The need for change, and making better use of technology in the way we design and deliver services, appears to be widely accepted." – NHS Confederation
Improving the mental health of the population is one of the major social policy challenges of our time. A very interesting report produced by the Mental Health Network (NHS Confederation) examines the way digital technology has the potential to transform mental health services. According to the report, other industries, such as banking, have embarked on a journey of digital transformation for several years now and offer insights to mental health providers and the NHS on how services can be fundamentally improved around the needs of the user. The report provides a great amount of insights about the current way in which people use apps, social media, and the World Wide Web in general, to communicate about, fight against or even detect a potential mental health condition. The report also mentions how The Centre for Statistics and the Social Sciences at the University of Washington is investigating the possibility of using artificial intelligence to assess Twitter feeds. Based on multi-dimensional analysis of what people talk about, their frequency of use of Twitter and references to medication, they can identify if an individual is at risk of depression.
"Compared to non-depressed user samples, they achieved a 70 per cent success rate in identifying depression and severe depression."
Examples of the numerous apps that people can use include: MOMO, MyJourney, and Moodometer. However, compared with other sectors, which have already started integrating digital technology to provide better help, mental health services – and the NHS more broadly – are falling behind in fully exploiting the benefits that digital technology has to offer.
"Digital technology presents us with new ways of delivering services more efficiently, and will help us continue to change the culture of our services by empowering individuals in their recovery".
"Empowering individuals" to become better versions of themselves is a key element of a healthy human development. Happiness comes with peace of mind and aspiration for a better future. Technology has the potential to help us achieve this for humanity. It only has to be used right.
The full Mental Health Network (NHS Confederation) report you can access here.