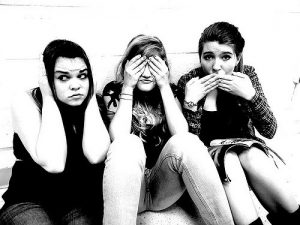 We shame on those who are fat, yet we shame on those who are thin. If you aren't model potential you are beauty shamed or flawed. Anyone that has, causal relationship or sleeps around is slut-shamed or stud-shamed, and if you don't you can be shamed for being frigid, a spinster, crazy cat lady, tragic or forever alone. Glamorous housewives are Stepford gym bunnies and gold diggers. Men with young wives are perverts and the wives mail order. Women with younger partners are ever cougar-shamed or toyboy-shamed. Business success means being power-shamed and failure means being poor-shamed.  If you travel as a youth you are indie-shamed, and mocked for being spiritual or adventurously living life on the edge. Geeks are chic, but nerds are shamed for being clever. There are food-shames in multitudes: from vegan-shame and meat-shame to fast-food-shame, kale-shame, carb-shame, protein shake-shame, and shame of not eating. We shame on those with fame, and we shame on those who flop… We shame on the leading politicians in the country and claim we could do their job better. We even shame on how they eat a bacon sandwich because it makes us feel better.
For race, there's a shame for every colour,  and religious beliefs we scapegoat to Jesus freaks and others. There's gay-shame, love-shame, sex-shame and shame for fighting for gender equality. Fart-shame… oh yes, we've got this low.  Society has ways of shaming people for being sensitive, shame for being emotionless, shame for wanting attention or talking about taboo topics. Parents are shamed for the way they bring up children, breastfeeding in public and what they let their children wear.  Mental illnesses are shamed and shunned away, and disabilities shamed too. We shame on those who are victims, and we shame on those who troll. The only problem is, we don't realise that we are doing it as well.
The problem is when will this shame game stop? Is it getting worse now that social media is such a big part of our lives? Not only can we shame the people we know personally and see in the streets, we can shame strangers across the world at the click of a few buttons. Isn't that a scary thought… I don't know about you, but it sounds like some sort of Black Mirror reality to me.
The aim of this blog is to uncover some of the types of shame in our society today and the issue with these being so prominent so that hopefully this shame game and form of cyber bullying can be forced to a halt.