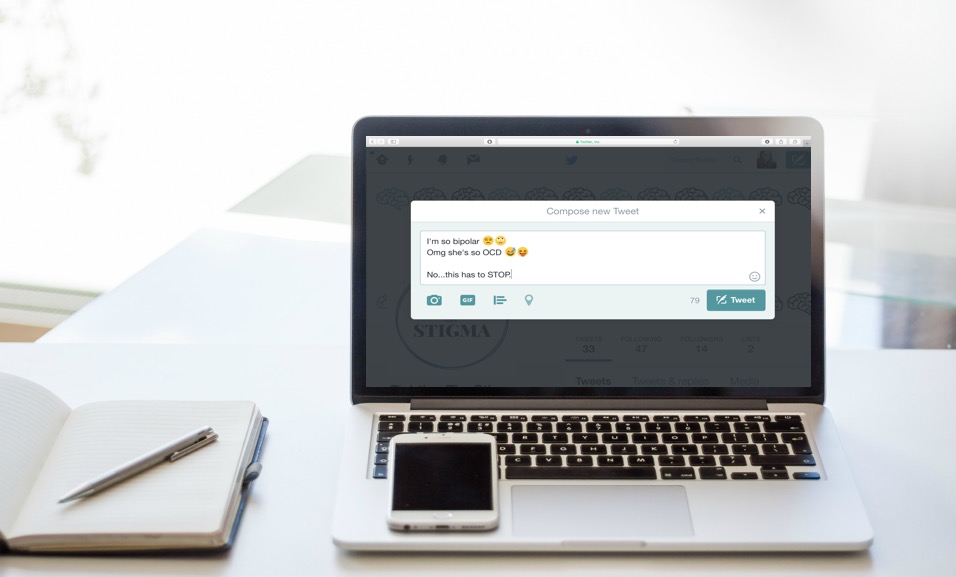 Social media sites such as Facebook and Twitter are a great place to voice your opinions and tell people how you're feeling. The online world is huge and users frequently share how they are feeling, often as a form of release. This all sounds perfectly normal, as at the end of the day, the purpose of social media is to share content with others. However, many social media users now express their feelings online through misusing mental health terminology as if it's a joke.
As well as this, using mental health illnesses as adjectives has become increasingly popular on social media, according to Everyday Feminism. This has caused a huge uproar online from people who suffer from mental illnesses, as it is evident that many people still do not understand the severity of mental illnesses and how they can affect people. Using mental illnesses as adjectives online is something that a lot of people are guilty of. According to The Huffington Post, using mental illnesses as adjectives takes away the seriousness of mental illnesses and make sufferers feel that they are totally defined by their illness.
There are many examples on social media that demonstrate this issue of using mental health terminology incorrectly, which is truly saddening. The constant repetition of this behaviour will continue to add to the stigma, as other users are able to read this content and could potentially perceive mental illnesses in an inaccurate way.
Below are a couple of examples of where mental health terminology has been used incorrectly. These examples may be offensive or frustrating to some of you due to the way they simplify mental illnesses and add to the stigma online. However it is highly important to address these examples in order to help fight the stigma.
"She's so OCD".
jillian is screaming because, there is an odd number of mozzarella sticks in the box ?? she's so OCD ?

— ashley nicole. ☃️ (@ashleytedrickk) 3 December 2016
Describing someone as 'OCD' is inaccurate and offensive to OCD sufferers. Many people don't understand the seriousness of OCD, and often describe themselves and their friends as OCD as a joke on social media. There is often confusion between people who are neat, tidy and organised and people who have OCD. In the tweet above, Jillian is described as OCD in a humorous manner; this is emphasised through the crying with laughter emojis. Jillian may have found having an odd number of mozzarella sticks frustrating, but in reality, OCD is a lot more complex and serious than that.
According to the mental health charity Mind, OCD (Obsessive-Compulsive Disorder) is a type of anxiety disorder, which has two main parts – Obsessions and Compulsions.
Mind claim that obsessions involve intrusive thoughts, ideas or urges that repeatedly appear in your mind, such as thinking you have been contaminated by germs or thinking someone is going to break into your house. Compulsions, according to Mind, are the repetitive activities you feel you have to do in order to relieve the anxiety caused by the obsessive thoughts. For example, a contamination obsession might be relieved by repetitive hand washing. A break in obsession might be relieved by repetitive checking of doors and windows. The compulsions are repeated over and over because the relief is often only temporary. Consequently, OCD can be very tiring and damaging to a sufferer's day to day life.
"I'm so bipolar".
I'm so bipolar when it comes to songs like I can go from getting litty to Hannah Montana to sad songs realllll quick lol

— Katie Ray (@katiieerayy) 30 December 2016
Katie describes herself as 'so bipolar' in this tweet, simply because she enjoys listening to both happy and sad songs. This is a very extreme simplification of a mental health disorder and consequently gives her followers a very inaccurate representation of what bipolar disorder is, which adds to the stigma. Katie's tweet implies she is unaware of what bipolar disorder is since she is using it as an adjective. Perhaps Katie thinks bipolar is just an adjective and doesn't know it's a real disease? Her use of 'lol' shows that she is throwing the term 'bipolar' around in a casual, jokey manner.
Having bipolar disorder does not mean switching from a happy to a sad mood on purpose, for example listening to a happy song followed by a sad song like Katie. It also does not involve occasional or brief mood swings, which a lot of people experience maybe for a day or two, for example teenagers who are stereotypically moody at times.
Mind claim that having bipolar disorder affects someone's mood in a much more serious and pro-longed way. Mind says that with bipolar disorder, sufferers experiences periods of feeling high (manic or hypomanic episodes) and periods of feeling low (depressive episodes). Due to the extremity of these episodes, it can cause sufferers to experience some psychotic symptoms.
These mood swings are much more extreme than day to day mood swings that a lot of us experience every now and again. Mood swings with bipolar disorder are much more extreme and can be very overwhelming, however a lot of people can't tell the difference between being in a bit of a bad mood and suffering from bipolar disorder.
Tell someone if they misuse mental health terminology
OCD and bipolar disorder are two of many mental health illnesses that are used as adjectives on social media. These examples are from Twitter alone, but there are many more cases on a number of social media platforms. I hope this post has informed you that mental illnesses are real and not simply a word used to describe someone. If you are a sufferer and already knew that this element of the stigma existed, perhaps you can help break it further. Let someone know that it's wrong to throw around mental health terminology online (and in real life) as if it's nothing serious. Keep on fighting the stigma.