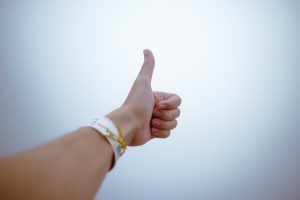 Hello and welcome back to 'End The Trend', the blog about viral internet stupidity and how best to avoid taking part in it. That being said, the trend I'm focusing on today is certainly not a hard one to avoid, but more on that later. Today I'm going to be writing about the first major viral trend I've come across in 2017, and something tells me that the internet didn't go for the obligatory 'New Year New Me' twitter post this time around. We're also going to be thinking about 2017 and what the year ahead will bring in terms of viral trends. Will we witness online success that benefits us on a worldwide scale? Or will we be subjected to just another bloated dose of unwelcome social media stupidity and brainlessness. I know which of these I'd put my money on.
Alright let's get into this. Teenagers and young adults have been breaking their thumb ligaments, photographing it and sharing it online. I'm now going to take a step back so you can think about this for a second.
*A number of seconds pass.*
Okay now you've had a moment, let's get the discussion going. The trend appears to be most lively on Twitter, with a number of users following the routine of seeing the trend, taking part in it, and then sharing the results, often back to people who took part in it previously. As if witnessing it wasn't enough, these morons had to try it for themselves didn't they? One even tweeted another saying something along the lines of: "you just made me break my hand". Now tell me if I'm missing the point here, but I saw the tweets, the photos, and the diagram of how holding your thumb in a particular way and flicking your wrist forward supposedly causes this damage… So where's my broken ligament? I saw the trend, therefore I must have followed it, they made me follow it, right?
Wrong.
If there's one thing to take from this, it's that if people are hurting themselves by doing something, it will probably hurt you too as like it or not, you are an ordinary mortal human being, and not the T 1000 from 'Terminator 2'. I'm not even sure if he possess thumb ligaments… But I digress. In addition to this and on a more serious note, no one online is making you do anything at all. You can come and go as you like when online and experience as much or as little as suits you, with no obligation of witnessing or taking part in any of these trends.
Now let's take a look at 2017 and speculate how it might turn out. After seeing this thumb trend, my hopes for a more productive year in terms of online trends were swiftly dashed. However, I've also encountered reports if the 'Mannequin Challenge' being put to good use, as a way to promote the fight against sexual assault. This is a solid way to take a somewhat pointless trend and use it for something beneficial, especially since it is already so widely known and participated in. Maybe this is what 2017 will bring: A new age of viral trends but with a beneficial goal, such as the ALS Ice Bucket Challenge, which funded a scientific breakthrough in research. If useless shit spreads so easily online, can we not simply replace the useless shit with more of the good shit and then spread the good shit instead?
As always, thank you very much for reading, please share this post with people you think may enjoy it if possible.