Hello all, and welcome back to 'End The Trend', the blog  about online trends and the damage they can cause, both physically and mentally. After last week's focus on the 'Belly Button Challenge' and the social damage it could potentially cause, I feel that it's fitting to analyse some trends from the other side of the spectrum – those that involve people obviously hurting themselves, for what seems like no reason at all. Read on for an eye-opening peak inside the the internet's grand vault of 'Funny For A Moment But Actually Extremely Worrying' things to do with yourself.
Firstly, let's look at the 'Fire Challenge'.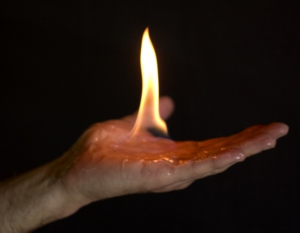 This is a powerful start to any discussion about harmful internet trends. From a very young age, we are taught that fire hurts. We know not to go too close to it and certainly not to touch it for very long, so why is it that people are literally setting their bodies and clothes on fire for… fun? I wish I could go back in time and show this to my mother when she told me I was spending too much time playing video games. She would have been more shocked than these morons during the very moment that their arm suddenly burst into flames.
Now we have the 'Salt and Ice Challenge'.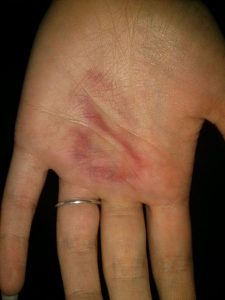 The fact that the 'Salt and Ice Challenge' exists as a viral trend saddens and disappoints me. This may seem surprising as there are plenty of more obviously dangerous trends people are taking part in, but this one especially strikes me as stupid, largely due to the lack of possible outcomes that can happen as a result of participating in the 'challenge'. To elaborate here, when an individual partakes in the 'Fire Challenge' for example, they know that there is a chance that they will be burnt through whatever the fire is burning, and as stupid as this is, they are at least only running the risk of hurting themselves. However, there are very few possible outcomes that can be achieved by holding a block of ice and some salt against your skin for a given amount of time. Spoiler alert: if you do this, it will create a reaction that burns your skin. The very worst part about this is that everybody who's doing this probably already knows this! It isn't a matter of 'will this hurt me?', but a matter of 'how much will this hurt me?' Are people really so bored that they will resort to self inflicted pain as a pastime?
When somebody asks if you would walk off a building if you were told to, the instinctive answer is a definitive "no". However, tell me if I'm missing something here but I'm failing to see a whole lot of difference between that and these trends. Young people are seeing online icons and peers taking part in these so called 'challenges', while fully knowing the consequences of them, and following the trend regardless! The activity isn't the real issue here, the problem is that people are taking part in it, and prompting others to follow. The problem is the trend.