Yet again, The Mail Online have given me no great pleasure but to criticise their 'not so worthy' news story headline.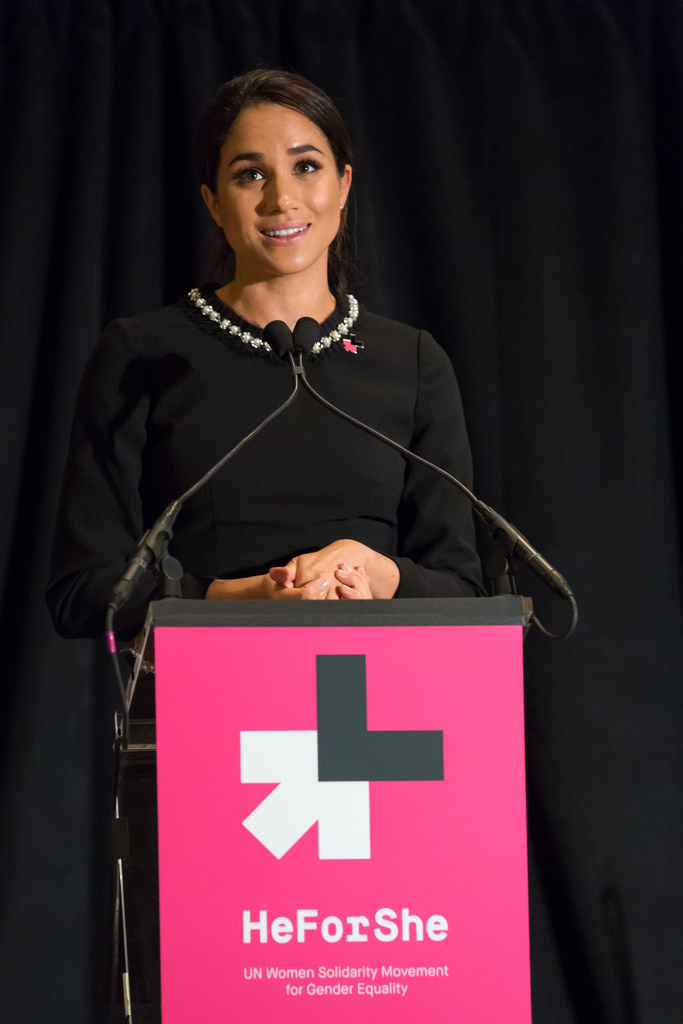 Being captured globally in newspaper headlines just for a pretty face, fit bod and iconic fashion sense, it definitely diminishes the successful efforts and accomplishments someone has made. And why is it that females are MAJORLY associated with these stereotypical themes of fashion and body image? Is this seen to be popularly newsworthy for mainstream audiences?
In tonight's blog post, The Mail Online's headline which I will be discussing is "Henna to impress Harry? Meghan Markle shows off a traditional Indian inking as she arrives at Mumbai airport after a charity trip".
Have you noticed it yet? Of course you have. "Henna to impress Harry?" – as you can see here, according to The Mail Online a woman has to 'dress to "impress"' a man. Stereotypical enough yet?
Meghan Markle, massively recognised in the media for dating Prince Harry, is now never solely spoken of for being an actress in the American Drama Suits. Below, I have tried to crack down the belittling truth of the headline itself. What do you think the headline tells us?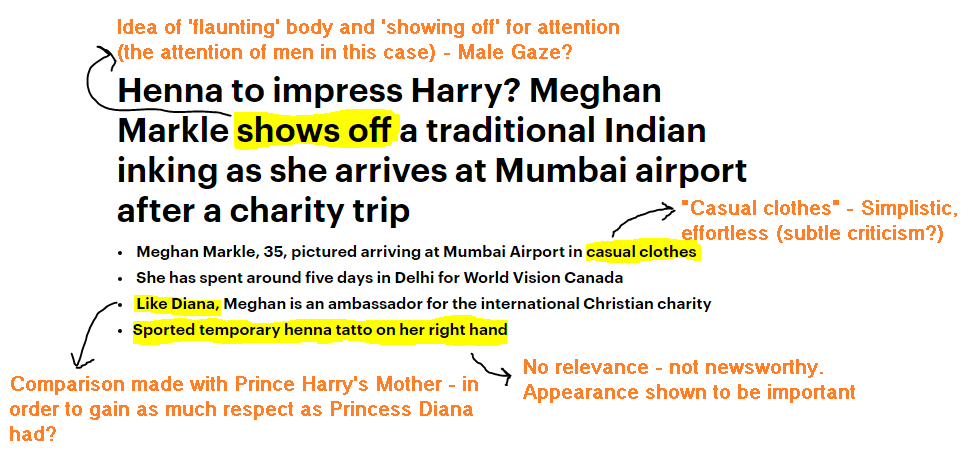 Playing a role in celebrity culture and living out a successful career and lifestyle, sadly, I find that The Daily Mail have depreciated Meghan Markle's purpose and achievements, however, they didn't forget to mention how she "sported temporary henna tattoo on her right hand" and "dress down for her long-haul flight, teaming a black t-shirt with skinny jeans and white trainers". Despite these statements being least critical, they still prioritise and comment on her appearance first and foremost over the purpose of her trip in Mumbai.
When taking a closer gaze at the numerous amount of images The Mail Online have featured in the article, it is noticed how none of these have particularly accentuated this henna tattoo on her right hand. So what can possibly be so special about it if Meghan Markle is seen wearing it? Meghan Markle acts as a famous fashion guru, providing The Daily Mail's readership with the idea that her body shape, style and image is to be admired and act as a role model towards anyone.
Due to these idealistic representations of beauty and body image in different form of media, girls AND boys are left to feel vulnerable and begin to generate a low self-esteem over their weight & facial and bodily appearance. According to heartofleadersip.org, due to the influence of media, "7 in 10 girls believe they are not good enough or do not measure up in some way including their looks, performance in school and relationships" (source: www.axs.com/uk).
The Mail Online show no direction whatsoever within their article, whilst providing limited information on Meghan's five-day trip to Mumbai and what her main aims and efforts were whilst being out there. Being an ambassador for the International Christian charity, "promoting young women's health and hygiene for the charity World Vision Canada.", this astonishing work isn't shone within the article to have any significance.
It is continuously saddening how in today's society, women are mainly noticed for their emotional and physical state, focusing on relationships and appearance. The Mail Online fail AGAIN to notice how fantastic women are in improving the world, helping out other societies and making social change for the better.
It is time to realise how independent and strong women are, and they have more of a purpose in society.