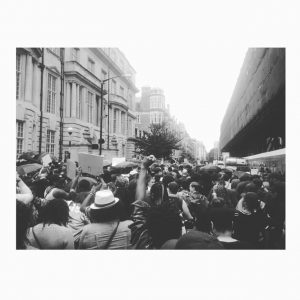 On the 13th January 2017, I met with Black Lives Matter activist Crystal McFarlane. I was lucky enough to grab a small coffee with Crystal and to discuss her participation in the black lives matter march. The march took place on the 8th July 2016 in London. Crystal was one of the hundred participants that gathered to march on Westminster. Together they marched in protest at the shooting of two black males by police in America.
By these people coming here to stand and unite, they are showing that they are against police brutality and that's the most important thing."
The marchers were heard shouting "Hands up, don't shoot" as they marched, banners in hand,  through central London to the Houses of Parliament at about 20:00 BST.
In memory of the high number of black lives lost in police custody, the UK chapter of Black Lives Matter organised a spate of demonstrations to protest systemic inequalities in the UK throughout the year.
Although the Black Lives Matter does not hold as predominant place in the UK prior to when the movement was first created. However the need and importance of raising awareness of the continuous police brutality and deaths in America has not diminished.