Hi Everyone!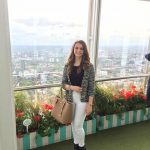 My name is Amy and I am 20 years old. I am currently in my second year of studying Communications and Media at Bournemouth University. Originally from London, I decided to move to Bournemouth to complete my studies. Moving to Bournemouth was a big decision, but also probably one of the best decisions!
Help Me, Don't Hurt Me
Whilst social media and online sites have their benefits such as allowing friends to communicate online, they also come with many of risks. With the number of active online users increasing, this risks an increase in the number of victims of cyberbullying.
Help Me, Don't Hurt Me is here to provide you with all the information that you need to know about cyberbullying, where to find help if you are a victim of cyberbullying, and an insight into others experiences of cyberbullying. I will also be looking into the impacts that web and mobile communications have on this social issue.
Be sure to follow all the latest information from my blog as well as a range of interesting facts, through my Facebook  (@HelpMeDontHurtMe) and Twitter (@HelpMe_DontHurt) pages.
Don't hesitate to provide all your comments and ideas, whether this is through the blog, Facebook or Twitter page. If you've got a story or experience linked to cyberbullying that you want to share with the world please contact me! Together we can raise awareness and reduce the number of victims of cyberbullying.
Hope to see you all soon!
Amy