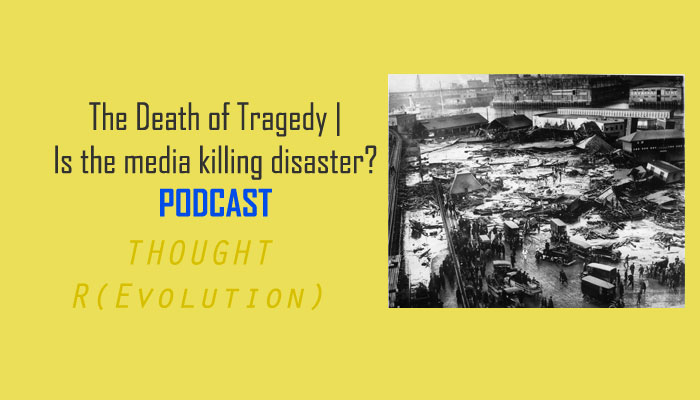 [soundcloud url="https://api.soundcloud.com/tracks/302139269″ params="auto_play=false&hide_related=false&show_comments=true&show_user=true&show_reposts=false&visual=true" width="100%" height="450″ iframe="true" /]
TRANSCRIPT:
Hi and welcome to the first podcast at Thought Revolution.
We hear about tragic events on almost a daily basis. You only have to check what's trending on Twitter or turn on the news to hear of another disaster somewhere in the world. What's somewhat shocking, is that a majority of the content we get from  mainstream new channels isn't even the tip of iceberg of the number of unfortunate global current affairs. The news we get  from our media is and always will be limited by nature. Of course  there's only so much that can be reported. Small independent news websites like Project Censored and Blacklisted news highlight the extent of unreported news, covering stories that get little to no attention.
The media bias
How the mainstream media determines the news stories we see is based on biased  ingrained ideas of who and what is important in our society.  There' s a very real  reason why the world mourned the death of a gorilla but remained unaware of the humanitarian disaster Boko Haram's forgotten victims returned to in Nigeria.   
The problem with media and desensitization
However, the rise of social media has helped us become more connected globally, providing a source of publication for the events that are not widely reported.  Although it has it's pros in increasing awareness, social media  may be become to root of a much darker issue that's warping our perception of news .
The deaths of Mike Brown and Trayvon Martin are just a couple of examples of how social media can be used as a source of activism and news sharing. But there is the risk of the names of victims losing  their human essence when they become a short lived trending hashtags on social media.
Images of the body of Alan Kardi , the 3 year of Syrian refugee found drowned were plastered all over social media. You only have to open Twitter or Facebook to see it's full of graphic images of war, death and violence. There's no dismissing the pain and horror these images display and for some it's a harsh look into the reality of others.
But the  fact we feel such content needs to be posted to get public attention says a large amount about our social condition. Are we really so unempathetic  we need these gruesome pictures plastered across our screens to feel sympathy for other humans? What's worse is that established news outlets are just as guilty when it comes to the publication  of such images.
As Susan Moore wrote for The Guardian:
"There is no more privacy. At one time the media would have thought carefully about which images could be made public. Lines are drawn and then crossed but all notions about respect for the dead have been ripped apart by the advent of social media."
If the purpose is to shock us into reality, it's self defeating. The widespread sharing of such images means we're getting more  and more desensitized. Constant exposure means there will become a point where these  images no longer evoke shock, horror or sadness. And at this stage, we would have lost a large part of our humanity.
To quote Moore again:
"A small corpse is not a symbol for public consumption. It is for some parent somewhere the loss of a precious person. To make these images common devalues the currency of shared humanity. We do not respect those living in awful conflict by disrespecting their dead. Stop."
Passive reading
We have essentially become passive recipients of bad news, we can sit  safe bubbles reading about these events,  retweeting and sharing  all the while remaining disconnected. All because we haven't stopped to reflect on severity and depth of these catastrophes. It's almost too easy for  real people to become another, viral image hashtag or newspaper headline.
It feels like we both hear too much and too little bad news. Constant exposed to catastrophe can be depressing and personally damning, so maybe our disassociation from bad news is simply a coping mechanism. In a way, we are both overwhelmed and underwhelmed by news of disaster. Seemingly becoming desensitized to the small proportion that we're exposed to while remaining ignorant to the extent.
It's a balance to keep our  empathy and  sanity. We can't go through the world with wool over our eyes. It's important to practice respect and understanding. We need to step back and remember every injustice faced, every disaster occurring,  every life lost, aren't just soulless statistic or words on a page no matter our distance from the situation.
I'm going to end with this quote by Maya Angelou:
"I think we all have empathy. We may not have enough courage to display it."  
As with every post, there's loads of great resources on this topic if you want to read some thoughts from other people.
SOURCES
Stop Posting Pictures of Dead People! – VimFomZim
Sharing pictures of corpses on social media isn't the way to bring a ceasefire – Suzanne Moore for The Guardian
Communities liberated from Boko Haram suffering humanitarian crisis – Vanguardngr

Is Social Media Desensitizing Us? – The Odyssey Online
What Constant Exposure To Negative News Is Doing To Our Mental Health – Carolyn Gregoire for The Huffington Post
OTHER ARTICLES
Got a French flag on your Facebook profile picture? Congratulations on your corporate white supremacy – Lulu Nunn for The Independent