As 2016 draws to a close we all make way for the New Year hoping that it'll be better than the last. New Year, new opportunities, new adventures and all that. But when you have an illness and suffer with an Eating Disorder celebrating at a time when everything is about over eating and over drinking can be more of a night mare. But the New Year is a great chance to leave behind last year's bad times, memories, events and put a positive step forward. It's a great time to find the motivation to change and make a goal for the upcoming year.
With so many people making a resolution to eat less, loose weight, go to the gym everyday it can be all too overwhelming surrounded by people restricting their diet and trying to loose weight. Set a goal to eat healthier and be more active, take everyday step by step and make weekly goals. That way you'll make it easier for yourself to achieve them and you'll get that sense of achievement and accomplishment. You'll have your down days, everyone does. Recovering from an Eating Disorder isn't an over night thing it takes dedication and commitment and you have to want to be able to recover for yourself. Whether it's yourself or for someone you love trying try and make a small set of goals to achieve this year – make them simple and small and that way by the end of next year you'll have achieved a much bigger goal overall.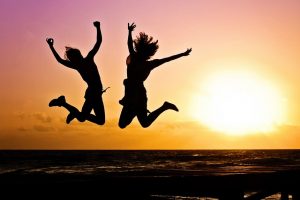 Don't loose sight and be put off by a small set back. And there is always help whether its from your close ones or online Eating Disorder profiles. There's always someone you can talk to to help.
With the thought of social media and its effect on Eating Disorder's in mind it could be a possibility as a goal for the New Year to spend a little less time online. Or to completely change things up starting up a recovery page or encouraging someone who's suffering from the illness to start up a page whether it be Twitter, Instagram, Facebook or another site it could be the change for someone else.
There are so many inspirational recovery stories out there and people who have managed to change their life around. Heidi Powell is just one of these inspirational people who overcame and fought an Eating Disorder and has come out the other side. Her story is an inspiration to others and is definitely worth a read if you're looking for some motivation or positivity to get yourself going in the right direction. Click the link below to read her story.