Hey guys,
I decided to dedicate this blog post to talk to you guys about the good old media. As girls (I'm sure boys as well) it affects our day to day lives, but why? We seem to spend hours looking and examining the media, me especially being a media student, but have we started to become absorbed by it? Is the media a bully or are the media the victims? What I mean by victim is that the media seem to be blamed by many by are they just reflecting what our today's society is?
I agree, the media can outright bully celebrities (basically anyone who has appeared on TV) by commenting on their weight and/or image. However, they seem to be clever in this because they commonly indirect bully which allows them to cover their back if anything is said about it. Oh wait….I have just stumbled across this ever flattering front cover headlining:
"21 Shocking Bodies that will make you feel normal"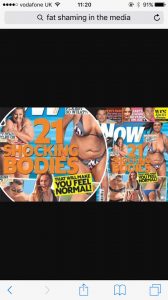 Could you imagine how you would feel if this was said about you? I know I would feel bullied and completely deflated. It is not only magazines that seem to body shame, but Instagram accounts that call themselves 'bloggers' who blog about fitness. Look at this: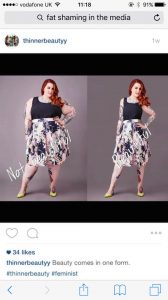 "Beauty comes in one form"
Are you delusional? We are all different, different assets, different flaws, different beauty. Beauty is different, there is no right or wrong. How have people become so brainwashed? Who do we blame?
One more major campaign that really grinds my gears is Protein Worlds' 'Are you beach body ready?'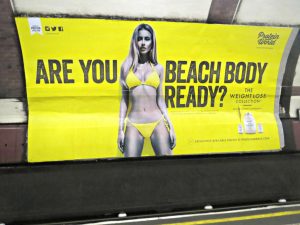 This campaign is telling us that there is one type of beach body… so if you don't have this body you are not allowed on the beach? Right okay, is there signs telling me this before I go onto a beach?
It's all a load of rubbish if you ask me, I get that they want to promote healthy lifestyles and healthy bodies but this is just demoralising to a number of a people in society.
Anyway enough of the negative media stories, one of my favourite confidence campaigns are done by the ever trusting 'Dove'.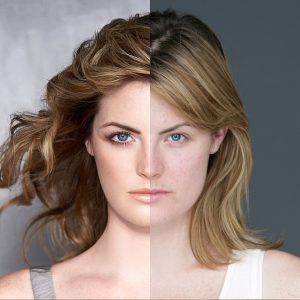 (photo by dove.com)
This is just one of their campaigns showing us the power of photoshop and editing.
Another one of my favourites is their Choose Beautiful Campaign. They presented women with 2 doors one saying 'Beautiful' and the other saying 'Average'. In the video women's voices are narrating the action with a number of women saying that there is a difference between how they view themselves and how they believe others do. One lady actually refused to walk through either so walked away.
Although there was a lot of hatred towards this campaign because it says that women are judged on their looks, I see a different side. This campaign was not about how we looked but was about our self confidence and self worth.
Well done Dove, I applaud you.
Anyway, although I could go on about this topic for hours, I'll leave this thought with you.
Are you beautiful?
Keep smiling,
Jess