Who am I? 
Hey! I'm Sophie Larkin-Tannetta, a 20-year-old Communication and Media student at Bournemouth University.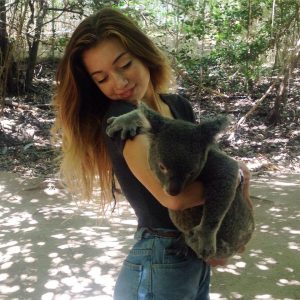 (I don't really do selfies…so here is a photograph of me holding a koala :))
Anyway…
WHY I HAVE CREATED THIS BLOG?
I have created this blog to investigate the growing issue of having a gaming addiction and the concerns and problems that follow this, I would also like to discover the various treatments currently available today.
Choosing this particular topic is very controversial, especially involving the potential link to crime and violence through video gaming. In a recent survey, 41% of people admitted to playing video games to escape their ordinary lives.
With the issue only going to increase, it is important people begin to understand and take it seriously.
The aim of 'GAME OVER' is to highlight the importance of understanding issues that have prevailed within the gaming world since the invention of the internet, which of course is known for being one of the most important inventions in modern history, years ago no one would have imagined such a thing could exist. However, today, life without the internet is almost unimaginable.
With weekly updates and keeping informed with various sources and information, I hope you gain a better understanding of gaming addiction as a whole and how much the potential 'addiction' is on the rise.
Make sure you stay up to date with GAME OVER social media accounts to always be involved in the discussion on FACEBOOK and TWITTER.
Subscribe and never miss a thing!