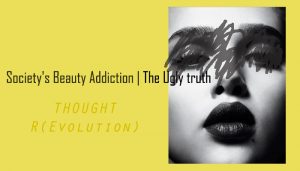 The world's obsession with beauty is something we see on a daily basis. From women's magazines declaring who's "hot or not" to the endless articles giving us quick fixes for our nagging "imperfections." This fixation on all things appearance is having a negative effect. This week Thought Revolution reveals the ugly truth about societies beauty addiction.
The media
Popular Magazines' such as Now,  Famous and Star have a routine habit critiquing high profile women's appearances. These tabloid practices are not only open acts of body shaming but are impacting us as an audience. A report by GirlGuiding UK found 7 in 10 girls aged 11 to 21 said pictures that "shame" celebrities make them anxious about the way they look. It's clear to see, the media's infatuation with image is transcending celebrity culture and having a very real impact on young women's self -perception.
It's okay – Dove says we're beautiful.
Commercial companies such as Dove seem to have honed in on this insecurity with their recent advertising campaign.

The video featured women describing themselves to an artist to be drawn, then continued to have them described by others and drawn again. The comparison between the sketches intended to reveal that the women are much more 'beautiful' than they think. Ultimately, it's 6 minutes and 35 seconds selling us the undying cliche that 'we're all beautiful.'
With over 7 million views the ad was dubbed 'The Most Viral Video Ad Of All Time.' The campaign seemed a success with much social media praise. However,  some critics saw flaws in the 'body positive' ad. Blogger 'Jazzylittledrops' said:

"Brave, strong, smart? Not enough. You have to be beautiful. And "beautiful" means something very specific, and very physical. — It doesn't matter what other merits a woman posses, if she is not conventionally attractive, she is essentially worthless….And my primary problem with this Dove ad is that it's not really challenging the message like it makes us feel like it is. It doesn't really tell us that the definition of beauty is broader than we have been trained to think it is, and it doesn't really tell us that fitting inside that definition isn't the most important thing. — All it's really saying is that you're actually not quite as far off from the narrow definition as you might think that you are."
The real problem
The issue is how beauty is implied as some sort of essential for a happy, full life. Of course, there's nothing wrong with learning to accept your beauty or taking pride in appearance. Beauty is a subjective concept – as cheesy as it seems – it is in fact true to an extend that everyone is beautiful in some way. But the heavy focus on the how women look actually becomes a much wider issue, all coming down to one thing – objectification. The idea that a woman's value is equated to her physical attributes – despite their achievements or talent is a socially damning. It was found 53% of 11-21 year olds agree people make girls think that how they look is the most important thing about them. The message that the media is sending is essentially that beauty overrides all else.
Girlguiding UK reported a staggering 47% of girls aged 11–21 say the way they look holds them back. This is a shocking figure, considering that logically a persons appearance doesn't affect their ability, intelligence or skill. Yet beauty seems to be so monumental in how young women go through life.
The issue isn't one solely affecting women, men are also becoming increasingly objectified. There is more  pressure to conform to standards of masculine attractiveness causing serious health and self-esteem problems.
It's no wonder people are under increasing more pressure to change themselves.The number of those undergoing cosmetic surgery has risen from 45,406 to a staggering 51,140 in just a year. Some, have even gone to the extent of going under dangerous black market procedures to achieve a look that will satisfy society.
The basis of why aesthetic appeal  has become so important is a complicated one. From an evolutionary stance, beauty can be a sign of much needed characteristics for survival, like health and fertility. On the other hand the cultural and individual variation in beauty standards suggest it's nothing but a social construct.
Perhaps the media agenda is to convince us we need to look like Angelina Jolie to be worth something. That way we're trapped in a cycle of consumerism buying products we don't need to reach an unattainable standard. Either way, being sentient beings gives us power to change way we think. The fundamental idea that physical beauty somehow equates to value must be changed. It's time we reject the superficial mindset that beauty equals worth and begin with ourselves to value people based on their mind's, words and action.
REFRENCES and SOURCES (recommended reading)
Body Shaming in Gossip MagazinesGirl guiding girls attitudes survey
How Dove's 'Real Beauty Sketches' Became The Most Viral Video Ad Of All Time
Why Dove's "Real Beauty Sketches" Video Makes Me Uncomfortable… and Kind of Makes Me Angry by Jazzylittledrops
Black-Market Plastic Surgery: Killing And Disfiguring Women In The US
The Scientific Rules of Attraction
Beauty Standards Around The World
RELATED CONTENT
Our Ugly Obsession with Beauty
'In spirit of international woman's day' by Rupi Kaur