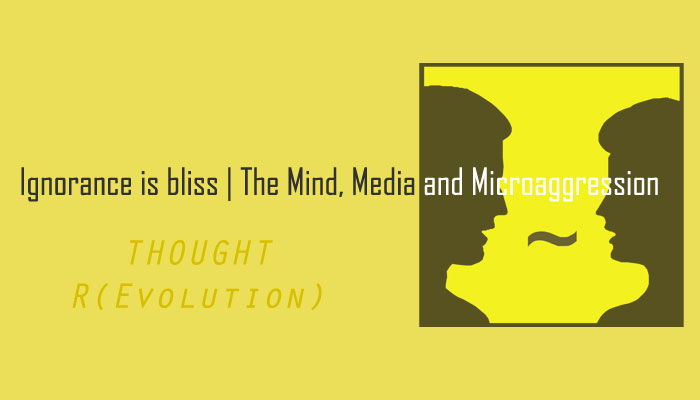 The media was collectively outraged by Trumps overtly sexist and racist remarks during his presidential campaign. People took to Twitter and Facebook  to condemn the candidate for his unacceptable comments. This is a clear example of how in 2016 ignorance is increasingly unacceptable. But what about those prejudices' that are harder to see?  
The mainstream media has a habit of ostracizing those who explicitly express hatred. However, it is far more blind to the socially ingrained injustice and inequality that  it often perpetuates itself.
Our basic understanding of hate is that if you don't openly identify racist/homophobic/sexist views – you aren't. However, for real progressiveness it's important to understand that prejudices' aren't always overt.
The media has carried out subtle acts of offence disguised  as entertainment or information  for decades. Whether it be the stereotypical tropes assigned minorities in Hollywood or sexist headlines.Without critical thought these ideas can start to influence our own thoughts and everyday interactions.
Social bias creates flawed ideologies that become cultural norm. People say and do things that may be rooted in insult but have been so normalized by the media and society, our  minds don't see the error. These small acts of ignorance are defined as microaggressions.
Put simply microaggressions are "small  actions and comments that either intentionally or unintentionally display a prejudice  attitude in a seemingly harmless way."
This video by Quartz reveals Hollywood microaggressions' perfectly.
The media has such a prominent role our lives that we may find ourselves unconsciously absorbing these ideas if we're not careful. A poll found that 78% of people believe that media portrayal of minorities encourage discrimination.  The presentation of minorities in media could be seen to fuel several microaggressions that we may have been guilty of ourselves.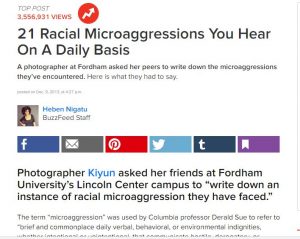 You see the issue with microagression's isn't directly what is said, but what is implied.  By telling an ethnic minority they "Don't act like their ethnicity."  Not only are you erasing them of their identity but you're suggesting you have an expectation of how they should act. Seeing as you're probably not part of this ethnic group this is probably based on a unrealistic stereotype that the media pushed. When clearly, it makes no sense for  a whole race of people to be categorized into restricted boxes.
Although ethnicity is a very important factor in  a person's identity, you have to remember it doesn't define their behavior the way Hollywood seems to suggest it does.  The same goes for gender for example, the backhanded compliment that someone is "not like other girls." Although this is intended to be complimentary it actually suggest there's an innate flaw in the 3.52 billion girls in  the world. The list could go on, stemming into homophobic and ableist microaggressions too, but i'll leave those explanations to people with more qualified experience.
The subtle nature means although we don't identify ourselves with having  prejudice beliefs, we may have been guilty of inflicting them.  Now, some people have argued microaggressions are the result of an era of overly political correctness and sensitivity.  However, with popular hashtags such as #everydaysexism and #everydayracism arising it seems people are no longer standing for it.
There's no doubt that there  are bigger fish to fry with hate crime rising b and revolutionary initiatives such as the #Blacklivesmatter and #heforshe. 2016 seems to be the year that people have decided to stamp out institutional inequality.  The rise of online activism puses for further social progress. It's safe to say most of us are innocent  of the assaults on identity that media "baddies" like Trump have inflicted. But our ideas of prejudice may not be as 'black and white' as it seems (no pun intended). But if as individuals we take the time to think more critically about what we learn from the media and how it effects how we as individuals interact with others, not only do we save ourselves looking stupid but make a big difference our relations with others.
REFRENCES and SOURCES (recommended reading in bold)
How Donald Trump used the media and the 'industry of outrage' to win the US presidency
Donald Trump: all the sexist things he said
Tabloid Headlines If They Weren't Sexist
Microaggressions: More than Just Race
What exactly is a microaggression? Let these examples from Hollywood movies explain
Media coverage of ethnic minority Britons 'promotes racism'
Lasting rise in hate crime after EU referendum, figures show
Shame for a Change: The Rise of Social Media Activism
The problem with positive stereotypes