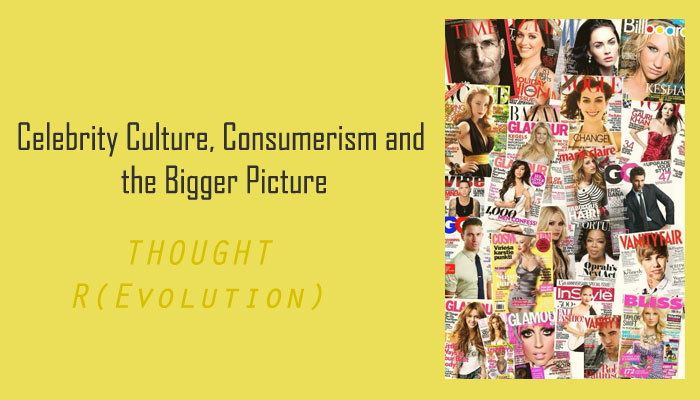 Media content is constantly revolving around celebrities. Even the most mundane activity is reported like a some monumental event. Clearly, celebrities sell, it seems to have become a standard part of our culture to be in on the latest happenings in Hollywood. But what may seem like harmless entertainment may be having negative effect on society.
Root of it all
The new era of celebrity is no longer reigned by just political figures or performers.  Reality TV have made it possible for 'ordinary' people to rise to fame. Increasingly  people are reaching stardom not for what they do, but who they are. And for some, this has become an aspiration.
Evolutionary psychologist have suggested a natural explanation for the public infatuation with celebrities. It's thought it has evolved as a psychological adaptations for cultural learning of a social hierarchy. This would explain why so many spend time and energy reading into the lives of the idolized.
Others have suggested, the focus on the famous is not in fact innate. Critics have put the continuous push of celebrity news down to a more calculated agenda. Celebrity news is said to act as a  distraction from the real social conditions that impact us. Whatever  the reason, we're buying into it – and it's a problem.
Crazed
If care isn't taken, no longer are we consuming celebrity culture, but celebrity culture begins to consume us. Psychologist created a scale and found entertainment  level involvement in celebrity culture can actually be a healthy pastime. So, indulging in a little celeb goss now and then is harmless. However, this can develop from a small habit to a harmful obsession known as " celebrity worship syndrome." Celebrity Worship Syndrome refers to an intense obsession with celebrities. The condition is linked with neuroticism and low self-esteem. The push of celebrity culture can be said to have far deeper psychological effects with the potential to put mental health under jeopardy.
Selling lies
Part of being a celebrity entails a highly publicized life, the rise of social media can give us a very personal insight into the lives of the rich and famous. People want to know where their favorite celeb going, what they're wearing or even eating. Every meticulous detail of their life becomes a selling point. Where there's something to sell, there's money to be made. From slim teas to perfume, companies use stars as an incentive to sell us any number of products. Simply sticking a celeb's name on a generic item makes it instantly marketable, just look at Kylie Jenner's Lip Kits. Truthfully, what could One Direction possibly know about make up design and when did Nicki Minaj become a qualified perfumer? Celebrities are no longer people,  but brands in this way they can become puppets to consumerism. When the words and images that seem to be coming from the mouths of celebrities are in fact constructions of PR and marketing, the ethics of the whole system comes into question.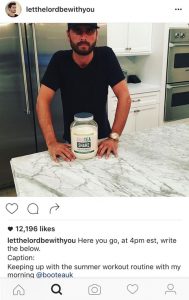 The trust of fans who dote the word of their idols is being exploited. Like  Scott Disick's PR fail revealed,celebrity sponsorship may sometimes seem obvious but isn't always. Sponsorship can vary from a single tweet to a full blown ad campaign. We compare our life to a reality that's constructed, then spend out cash trying to obtain that lifestyle. It's only once we start questioning the real purpose behind the content that celebrities share on media that we can stop ourselves become pawns in the consumerist playing field.
An unwelcome distraction?
The day Justin Bieber was arrested, even major accredited news outlets such as CNN headlined the apocalyptic event. Meanwhile, in Ukraine protests had taken a violent tun in Kiev -but hey who cares? Throughout history celebrities have been used  to detract  'commoners' point of focus from politics and the economy to entertainment. The monumental amount of celebrity coverage can be seen as a distraction from the horrors of the world;
"Mainstream media has become incredibly adept at reporting the mindless, and the worthless, while completely ignoring the real news."  – New Dawn Magazine
Now, sounding too 'conspiracy-esque' , essentially celebrities can be used to keep us quiet about the social conditions inflicted on us by ruling class. This keeps the public complacent maintaining the status quo. I mean, who has time for protesting the powerful if they're reading about what Cheryl Cole wore to the shops?
However, the world can be messed up; from the ongoing  wars  to the social injustices on our front door. Perhaps the constant flow of 'bad news' has become mind numbing and we've turned to 'softer' celebrity content as a welcome distraction to the painful reality. Maybe the large production  celebrity content is down to demand rather than supply. Many media outlets  have to turn  had to celebrity news  as a source of income simply to keep running. Celebrities have becomes a profitable product, and like with any product there is no supply without demand. Still, distractions can only last so long until reality stares you in the face.
Whether our celebrity obsession is the result of public consumption or media function, we don't have to but into it.  We can be more thoughtful about the media content we consume as individuals. Then our minds will less occupied  absorbing  false realities of the rich and famous and more in tune with the real world, focusing on what really matters.
SOURCES
5 Destructive Sides Of Celebrity Culture No One Talks About
The Reality Of Reality TV Stardom
Viewpoint: Did our brains evolve to foolishly follow celebrities?
Celebrities & the Art of Distraction
16 Totally Random And Kind Of Embarrassing Celebrity Endorsements